Capcom today held an event dedicated exclusively to the saga Monster Hunter with news about its next two installments: the one we have the closest to launch is Monster Hunter Rise, what get to Nintendo Switch first, specifically the March 26th, and later, next year, to PC. Today new details of this game have been shown and it has been confirmed that it will have a new free demo in the eShop of the hybrid console.
The new demo of Monster Hunter Rise be available on Nintendo Switch this Friday, March 12. It is a new version of that free trial that we were able to download last January; In addition to the missions included in that demo, in this new test we will be able to face Magnamalo in a challenge of higher difficulty. Those who already played the previous one will have their mission counter reset to zero to be able to enjoy the levels they already played again.
Are you ready to rise to the challenge? Monster Hunter Rise launches on #NintendoSwitch in just 18 days! pic.twitter.com/dBJ5sRLjpR— Nintendo UK (@NintendoUK) March 8, 2021
Free post-launch content and new gameplay information
In addition to this new demo, there has also been talk of the free bonus content what Monster Hunter Rise be getting after its release on Nintendo Switch. They will be free extras that players can download in various packages: the first will be published at the end of April and include new monsters among which is Chameleos, which was presented today for the first time. The next pack will also add new creatures to hunt down, among other things, although when it will be released has not been specified.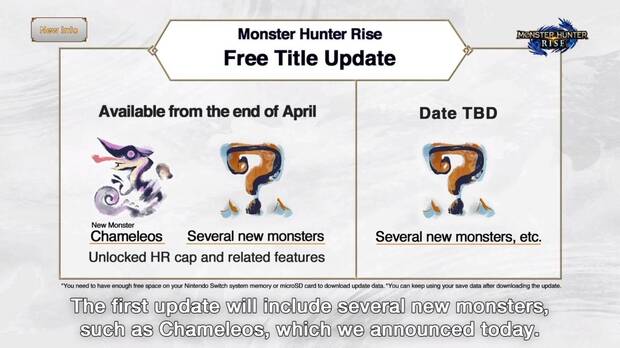 During the event it was also shared information on the gameplay of this new installment, such as a new mode called Rampage in which the players of Monster Hunter Rise They will have to collaborate with the villagers of Kamura to reinforce their defenses against the surprise attack of wild monsters. Other new features, such as Switch Skills, which will be unlocked during the game, or the Hunter Connect, which allows us to define our style of play to find similar players in online games, have also been shown in today's event.