Capcom today held a event focused exclusively on the news of Monster Hunter, both in the new content that is to come to Monster Hunter Rise, now available exclusively on Nintendo Switch, as in new details of Monster Hunter Stories 2: Wings of Ruin, what will be launched July 9 on PC and Nintendo Switch.
From Monster Hunter Stories 2: Wings of Ruin, specifically, a new trailer in which the Monstie companions are seen in high quality. During the video they also make an appearance heroes from the first installment of this subsaga, such as Lilia and Reverto, which already appeared in the Monster Hunter Stories original, released on Nintendo 3Ds. You can see the new game trailer below:
Plot details, combat system and pre-order now available
The plot of this new installment will take us to perseguir a Razewing Ratha, partner of Lilia and Reverto, before its destructive power awakens as described in the Wings of Ruin prophecy. While the protagonists want to find him to prevent the fatal outcome, a number of Hunters and Riders also want to hunt him down with their own evil goals in mind.
During the event, not only the narrative component of Monster Hunter Stories 2: Wings of Ruinbut also aspects of his playability. Specifically, it has been specified how to operate its turn-based strategic combat system: In addition to the three types of attack in the first installment (Power, Technical or Speed), this sequel will take more into account the weapon type, item and appropriate skills.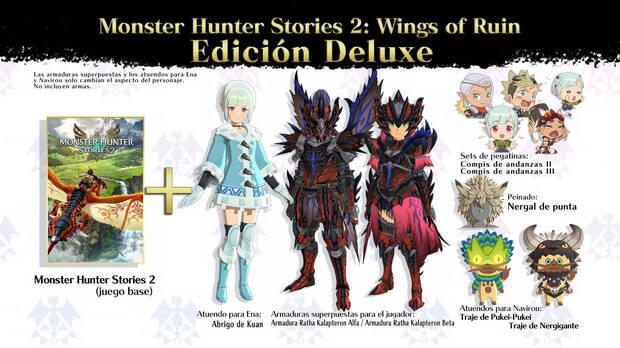 The Riders can use their strategies to stop the advance of rival monsters, something for which it is essential to know the fighting style of each of them. You can target and weaken specific parts of enemy monsters, team up with Monsties to perform double attacks, or join forces with companions to unleash powerful Kinship attacks.
Finally it has been announced that Monster Hunter Stories 2: Wings of Ruin can now be pre-ordered on Nintendo Switch and those who do will unlock the Kamura maiden outfit for Ena. Players who have save data for Monster Hunter Rise on the console they will receive Rider's armor for their hunter in said game and Kamura Garb's armor in Monster Hunter Stories 2: Wings of Ruin.