Today Capcom has celebrated the Monster Hunter Digital Event, a broadcast dedicated exclusively to the news of the popular monster hunter saga, and during the event it was announced that Monster Hunter Stories 2: Wings of Ruin It will be released on Nintendo Switch and PC on July 9. Figures have also been shown amiibo that will hit stores the same day the game is launched.
So far the official information from Monster Hunter Stories 2: Wings of Ruin I was only aiming for an exclusive release on Nintendo Switch, so It was not until today that we discovered that it will also reach PC through Steam (Although we already see it coming because of those Capcom internal document leaks). During today's event a new game trailer with voices in English and subtitles in Spanish, you can see it below:
Amiibos y Deluxe Edition
In addition to the new video, Capcom has also announced that Ena, Razewing Ratha y Tsukino, three of the game's characters, they will have their own amiibo Compatible with the Nintendo Switch version. These figures will be available from July 9 and when used in the console reader I will unlock a special armor, different for each amiibo.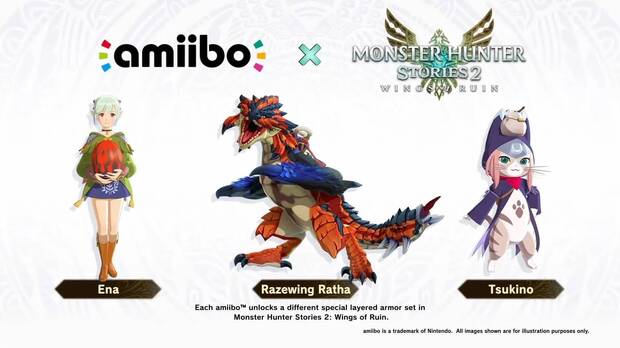 The Deluxe Edition of Monster Hunter Stories 2: Wings of Ruin, a special version that in addition to the base game will bring an alternate outfit for Ena, two unique armor for Razewing, a set of stickers, a special hairstyle for the player, and two outfits for Navirou. You can see all additions to this edition below: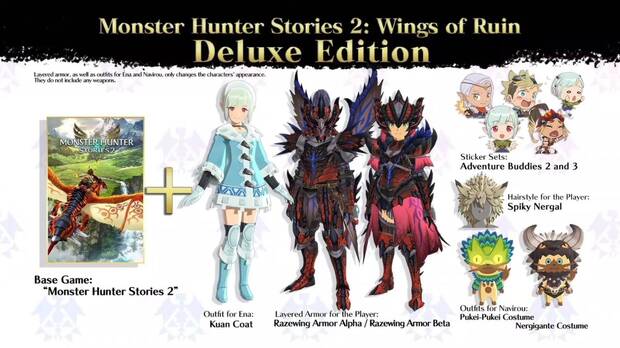 Monster Hunter Stories 2: Wings of Ruin is a direct continuation of Monster Hunter Stories, a first installment that will be released in 2017 for Nintendo 3DS. Keeping your style of turn-based fighting, JRPG style, in this new game we will once again put ourselves in the shoes of the protagonist Monster Rider to create a new team of monsters to care for and train.