Monster Hunter It is today one of the most popular and successful video game sagas that we can find on the market. After years of refinement, the formula of the veteran series is preparing to take a new leap in quality next April 26 with the arrival of Monster Hunter Rise exclusively for Nintendo Switch, a new and promising installment that is presented to us as one of the friendliest and most accessible for new players, becoming a perfect gateway for all those who have always been interested in their hunts to finally dare to enter this fantastic world.
Great news that make the game more accessible and dynamic
This does not mean that the title will lose the enormous playable depth for which it has always been characterized, but it does a handful of new features and improvements have been added that make the first-time start-up step much smoother. Good examples of this we have in much longer and clearer tutorials that explain better than ever how to play, as well as in the introduction of a complete training center in which we can practice as much as we want the combos of our weapons in a wide variety of different situations.
The game is now also much more agile and dynamic thanks to the chordalcopter, a new tool that allows us to perform all kinds of aerial acrobatics and climb, thus giving us more possibilities when it comes to planning our strategies and moving through the scenarios, not to mention that thanks to it we can execute powerful and devastating attacks that give the confrontations a more pleasant and pleasant point.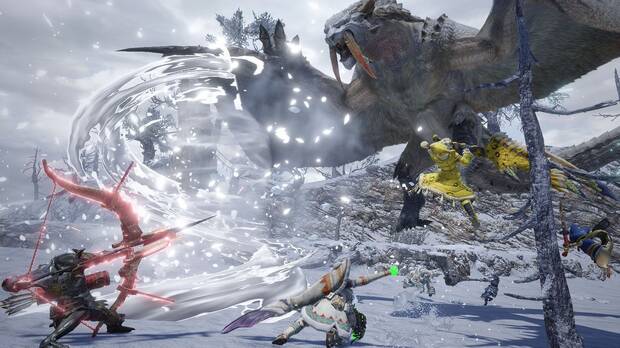 Speaking of commuting, this installment introduces comrades Canyne, a kind of charismatic dogs that will help us on missions and allow us to get on them to go from one place to another at full speed and even use objects while we ride to avoid being sold. And not only that, since during the confrontations they will also give us their support with different very useful skills.
We have another very interesting novelty in the ability to stun monsters to ride them and control them for a few moments, something we can use to unleash their most damaging attacks against our prey and make them face each other, thus facilitating our hunts while being more spectacular than ever.
Nor can we forget about the introduction of the Frenzy missions, in which we must prevent several hordes of monsters from breaking the village gates, something for which we will have a multitude of traps and weapons that we can place on the battlefield to help us achieve our objective.
Quality of life improvements and a balanced difficulty for both single and multiplayer
Evidently we will also find a good handful of quality of life improvements, such as the fact that hunting grounds once again dispense with loading times to divide their different zones, the possibility of collecting resources in one go by just interacting once with them or that we can now use the local fauna of each region to strengthen us and cause all kinds of effects to occur during confrontations.
If all of this seems too intimidating or overwhelming, fear not. the difficulty curve is very well measured and there are two different mission lines: those of the living room and those of the village. The first ones are designed to be enjoyed in company, although the difficulty is always adjusted according to the number of players in the game, so we will always find a fair and fair challenge, while the village ones are designed to be played completely alone with the help of two comrades, either Canyne or Felyne. These They are the easiest and are perfect to start in the saga, proposing us some very affordable hunts that will gradually increase in difficulty, thus allowing us to get to their mechanics and assimilate them little by little.
As you can see, It is a perfectly enjoyable game whether you plan to play in the company of other players or alone, something that fits like a glove to a console like Nintendo Switch and its portable possibilities, thus facilitating that we can play one or two quick missions anywhere whenever we have a space to enjoy it.
Get into Monster Hunter Rise with its demo
Finally, We take this opportunity to remind you that you currently have a demo available to test the game for yourselves featuring three different missions and helpful tutorials. In addition, the hunts that they propose are of different difficulty (easy, normal and difficult), so it will help you to get a good idea of ​​the type of challenges that you will have to face in the final version when it is finally put on sale next March 26th.