The Commodore 64 is a legendary home computer, one of the icons of the world of retro video games that was released in summer 1982 and in which we could enjoy authentic video game legends such as The Last Ninja, Maniac Mansion, Turrican II, I +, Microprose Soccer, Navy Moves O Altered Beast.
This cult object had a multitude of models with different power and peculiarities and even in 2018 we were able to experience its relaunch with C64, a miniature Commodore with some of its best games that is still on sale for the most nostalgic.
Now this piece of hardware Commodore International is back in the limelight today thanks to 8-Bit Show And Tell, a YouTube channel specialized in retro and modding what has decided modify your Commodore 64 original to mine Bitcoin. This team has a 1,023 MHz MOS Technology 6510 processor along with 64 KB of RAM and 20 KB of ROM, quite a beast for his time although today they seem very humble characteristics.
The result of the experiment is that the Commodore 64 obtains a result of hash rate of 0.3 hashes per second which is the value used to know the "mining power" of a device. If you connect the SuperCPU, a processor upgrade for the Commodore, performance increases by 20 and according to mud if it were further and I would rewrite all the code to transform it to the native language used by the device, the performance could increase about 10 times more although it will continue very, very far from what cryptocurrency "miners" are looking for.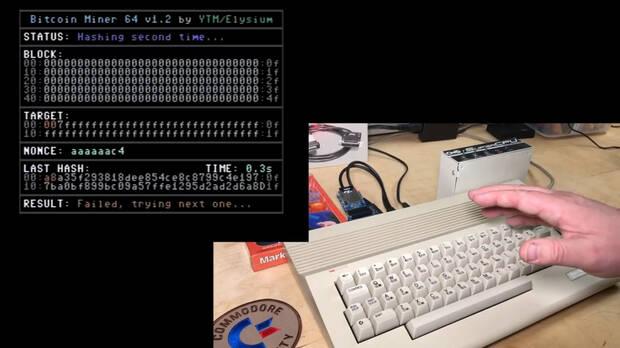 The Game Boy returned a result of 0.8 hashes per second
Just a few weeks ago we told you about another mud that he had managed to get his Game Boy to perform cryptocurrency mining tasks achieving a result of 0,8 h/s superando al Commodore 64 original although this computer "destroys" the Nintendo console with the help of the SuperCPU that increases its performance to 60 h / s. Obviously, both are experiments and with these two devices it would take billions of years to obtain a single Bitcoin but, of course, it is quite a curiosity how cryptocurrencies are causing this type of modification of hardware so old.