Microsoft Flight Simulator is that flight simulator that allows you to take off in Cdiz and land in Cancun without leaving your home. Developed by Asobo Studio, the title has received a large number of updates that have added content and improvements to the user experience; but now it seems that it will be preparing to receive a new flight vehicle that will make the gameplay very different: the helicopters are warming up to debut next 2022 in the game. The news comes before the Xbox Series X / S version launches this July 27, aiming to occupy almost 100 GB on these new consoles. The game is currently available on PC.
Microsoft Flight Simulator, the helicopters prepare to arrive
As detailed in the development studio's recent blog post, it appears that the requested helicopters will arrive at Microsoft Flight Simulator sometime next year. From Asobo Studio they have shared the results of the characteristics most demanded by users, and helicopters are in first position by a wide margin. In the right margin, we can see that the expected date for its debut is 2022. Unfortunately, at the moment that is the only information we have about it.
Other features that players have also requested is the incorporation of the "multiple screens" functionality, to arrive between this year and the next; as well as the repetition or DirectX 12. Also places like South Korea and Brazil will be updated, while the different seasons of the year will be incorporated. Below these lines we leave you the image of most voted requests by the community: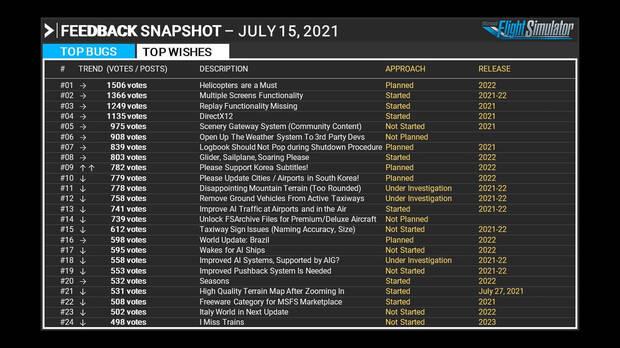 Microsoft Flight Simulator: Upcoming news
While users await the launch of Microsoft Flight Simulator In Xbox Series X / S, the title has presented a whole series of characteristics that improve its accessibility; while update 5 will help polish the optimization of the simulator so that it is not so demanding on the CPU. "Asobo Studio's aviation simulator is a photorealistic game, ambitious, relaxing and surprising, but not for that reason lacking in flaws ", we wrote in our analysis.
We remind you that Microsoft Flight Simulator is available on PC, and it is expected that launches on Xbox Series X / S at the end of the month. There is also a version planned for Xbox One that is not yet dated.