One of the biggest and most controversial announcements made last year regarding Marvel's Avengers was that Spider-Man will come to the game as one of its playable characters, although only in its versions for PlayStation 4 and PlayStation 5, something that, obviously, did not end up sitting well in the community of Xbox and PC players as they had to pay the same for versions that ended up having less content.
Spider-Man will not arrive until after the Wakanda expansion is released.
Polemics aside the long-awaited Spider-Man was promised to arrive in early 2021 via a free update, although Crystal Dynamics plans do not seem to be going all that well and now They just announced that finally its premiere in the game has had to be delayed to a date after summer, which could end up even leading to its arrival not taking place until 2022.
Yesterday Square Enix published the roadmap they have planned for this year and in it there is no trace of the launch of Spider-Man, prompting players to wonder what will happen to our friend and neighbor.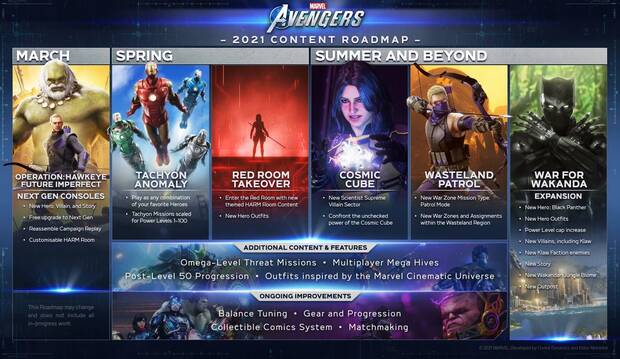 Scot Amos, the head of the study, has answered this question assuring that "they are working on it now", but also that will not be released until the Black Panther expansion is released. Unfortunately, our trip to Wakanda won't take place until last summer on a date yet to be determined, leaving very little room for Spider-Man to appear on Sony consoles this year.
The Avengers video game
Marvel's Avengers is an action game in which we will be able to embody the most powerful superheroes in the world to complete all kinds of missions, either alone or in cooperative. It is already available on PS4, Xbox One and PC, and yesterday its versions for PS5 and Xbox Series X / S were also released in Spain. If you want to know more details about him, we encourage you to take a look at our review and our guide.