The streamers and content creators Ibai Llanos, El Rubius and CooLifeGame (Jacky) have announced the date on which to start Marbella Vice: the April 11. It is a week later than what they had previously said, but they wanted to liven up the wait by presenting the final list of 151 streamers Spaniards who will appear at the same time as they have offered a tour of this modified server from Grand Theft Auto V.
For those who are new, Marbella Vice is a proposal that follows in the footsteps of previous Twitch star servers such as Egoland in Rust and Arkadia in Ark: Survival Evolved. The more than one hundred and a half participants will broadcast their alternative life in this server from Grand Theft Auto Online that has the support of the creators of Outsiders, one of the servers of GTA Roleplay most important in Spain.
On the tour, Ibai, El Rubius, Jacky and those in charge of Forasteros teach how have they adapted the Malaga Marbella to GTA Online: There is the National Police and the Civil Guard, there are posters where they advertise Kiko Ribera concerts and Julio Iglesias, the marquees are full of memes of the Spanish scene of Twitch, the Pach nightclub and there are even photographs of the Fary.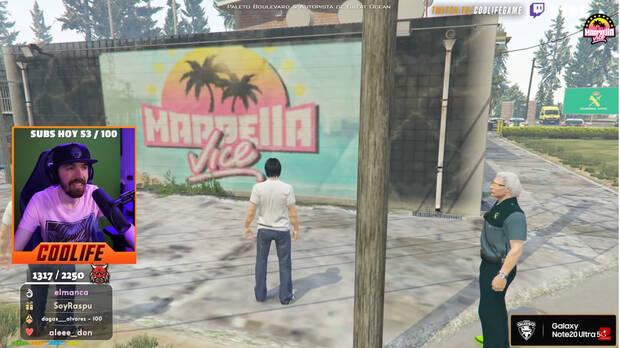 All Marbella Vice participants
In addition to the names already mentioned, such as Ibai Llanos, El Rubius and Jacky himself, there will be many familiar faces in Marbella Vice who will broadcast from their own Twitch channels: Cristinini, Folagor, TheGrefg, Paracetamor, ElXokas, Outconsumer, Mister Jagger and many others to which are added names from the world of sports such as Thibaut Courtois, Borja Iglesias o Kun Agero. We list them all 151 below:
Ibai
CoolifeGame
rubius
Cristinini
JuanSGuarnizo
AgentMaxo
Arigameplays
Folagor
Carola
Zeling
TheGrefg
DJMario
Spursito
Auronplay
Perxita
Goes
Carolina April
Vicens
Ampeterby
Elchurches
Minus thirteen
Luh
Hit GG
Bladecito
Destroy
Ded
Hardy
Trolero
Outconsumer
Morphains
Gemma
Davilin
Zunk
ALkapone
Lakshart Nia
Chuty
Pieces
Blon
Head
Chat
Force
Errec
Mister Ego
Khan
Dylantero
Elxokas
MK
Acenix
The insane
The AFK Expert
Gnesis
Agustin51
Withzack
Lazypopa
storehouse
Paracetamor
Silithur
The Catacroquer
Zorman
Cell dust
The Fox
BarbeQ
Mega
Tanizen
Mery Soldier
Alvaro845
Reydama
Albii Prz
Knekro
Illojuan
Other
Selene
Werlyb
Erling Haaland
D3stri
Dtoke
Lit Killah
Momonkun
Elemao
Mayichi
Biyin
Srta Moore
Violeta G
Leviathan
ByViruzz
Sukua
Mister Jagger
Alexby
Borja Iglesias placeholder image
Laporte
Kun Agero
Aroyitt
Sr Cheeto
Daz
Duendepablo
Elvis
Refrigerators
Gona89
Karchez
DarkozTV
Train
Titodami
Johnson Shotguns
Flipin
Gerib
Whom
Kenai Souza
Nosoykoko
Luquitas rodriguez
Polispol
Chicksenpai
Charly ruiz
ItsRaikz
Roberto Galati
Sekiam
Sutan
Taeschnee
Play
Lolito
Manitous TV
Kronno Zomber
Komanche
Kidd Keo
Kitohhhh
Lauriita18
MeinTV
Jotacanario
Jordi Maquiavelo
Jcorko
ITAR
Goorgo
Goncho
Courteous
Cheeddii
Borja Pavn
LadyAhriadna
Wasabo
Wachiinanii
The Corvus Clan
Vince RP
Ungoron RP
Poseidon
Pivitron
nefarius
Pipol
razor
Mrdisyy
Blako
Yisus
MoleDJ
Eltitosintho