Offered by IGG
The Tokyo 2020 Olympic Games they are almost here: from the July 23 to August 8 athletes from Spain and the rest of the countries of the world will compete in a multitude of disciplines to leave Japan with all possible medals hanging from their necks. The event goes beyond the competition: it is a celebration that unites the whole planet for several weeks and that extends outside the Olympic Stadium: to homes, to the streets, to digital platforms, and of course, to video games.
One of the titles to commemorate the XXXII Olympiad will be Lords Mobile, the title of free tower defense of the multinational IGG for Android, iOS and PC. From the July 19 to August 16 players from all over the world will be able to participate in Lords Games, composed of several events that have the objective of get medals and win prizes both digital and physical.
All players who are joined to a guild with more than 25 members in four different modes (one round each): Guild Party, Lords Cup, Guild Challenge, and Kingdom Clash. During the four weeks that the Lords Games last, players will earn medals. The 100 guilds with the most medals will be crowned as "Guilds of Gold" and they can win exclusive prizes.
The hundred who top the ranking will receive a exclusive guild frame; Also, all members of those clans will get packs that will include gems, chests and boosters. Of the top three guilds, the top 10 performers at the Lords Games can win a prize set that includes a limited edition mechanical keyboard decorated with game motifs, brass figures of Guardin and secret boxes of little monsters.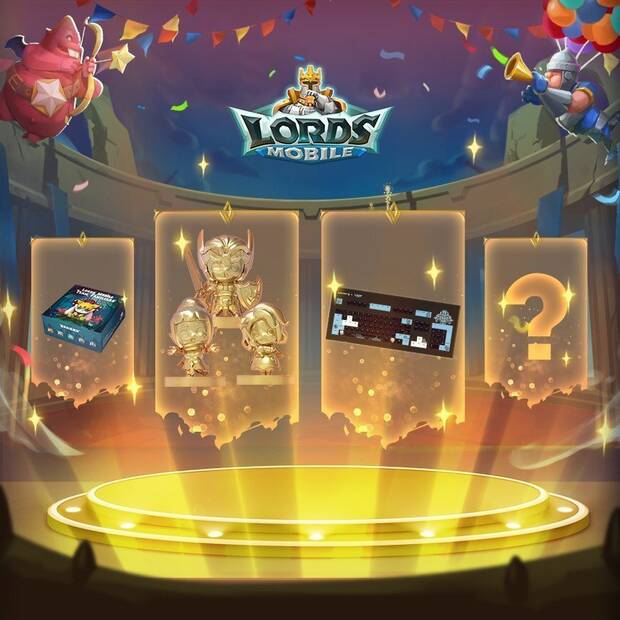 Prizes for all players
The IGG team is aware that not all players are registered in guilds and not all have enough time to fight to be the group with the most medals. Under the premise that "the important thing is to participate", all those who pass through the game during the Lords Games will receive gifts to be announced later. Finally, those who redeem the cdigo "LORDS" On the game's gifts website you can get a special gift.
And you download for free Lords Mobile from this link you will receive an apprentice pack valued at 100 euros. Remember that you can enjoy this game on devices iOS, Android and on PC.