Limited Run Games distribute the miniature arcade in the United States Astro City Mini in limited units (3500 mquinas) that can Reserve the March 26 for $ 129.99 (109.42 euros at the change). The console includes 37 games among which stand out Altered Beast, Golden Axe, Puyo puyo, Shinobi, Sonic Boom, Virtua Fighter Y Wonder Boy. The store allows you to buy from Spain, but usually you have to pay import expenses.
The Astro City is one of the machines most popular arcade games ever in Japan. SEGA distributed it in 1993 and from the first moment it stood out for its large screen and its materials, replacing the classic wood with a nuclear white plastic. The miniature version was released in Japan in December 2020 by SEGA. The one that distributes Limited Run Games has a exclusive packaging for the North American marketmaking the 3,500 machines a sought-after collector's item.
In case you were wondering, our release of the Astro City Mini does indeed come in localized English packaging. Only 3,500 of these English-focused versions exist! pic.twitter.com/cuWwC0RCeo— Josh Fairhurst (@LimitedRunJosh) March 22, 2021
The console includes a LCD screen miniature and can be connected to a TV or monitor via HDMI. It also has a headphone jack port and two USB-A ports to connect controllers. In addition to the miniature arcade, Limited Run Games sells a gamepad for $ 27.99 and a set decorativo: For $ 39.99 it has a base, a tiny chair and a plastic top to simulate the design of machines that can still be seen in arcades in Japan.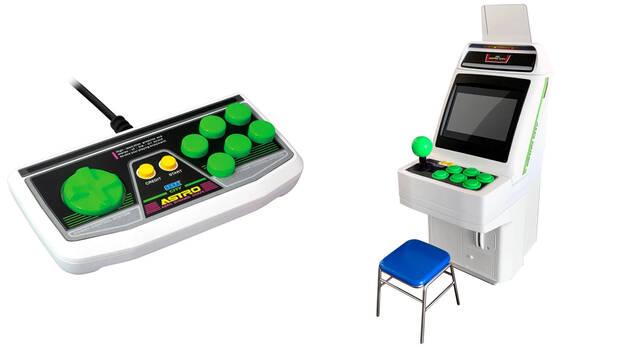 The games included in Astro City Mini
The 37 games to include Astro City Mini are:
Alex Kidd The Lost Stars (with Stella)
Alien Storm
Alien Syndrome
Altered Beast
Arabian Fight
Bonanza Bros.
Columns
Columns II
Cotton
Crack Down
Cyber Police ESWAT
Dark Edge
Kun Doctors (Dot Race)
Fantasy Zone
Flicky
Gain Ground
Golden Axe
Golden Axe Revenge of Death Adder
My Hero
Puyo puyo
Puyo Puyo 2
Puzzle & Action Ichidant-R
Puzzle & Action Tant-R
Rad Mobile
Quartet 2
Scramble Spirits
Sega Ninja
Shadow Dancer
Shinobi
Sonic Boom
Space Harrier
Stack Columns
Thunder Force AC
Virtua Fighter
Wonder Boy
Wonder Boy in Monster Land
Wonder Boy III Monster Lair