Kojima Productions est hiring staff from different specialties for the development of a unannounced action game, as shown by 21 job offers published on the LinkedIn social network that have been detected by the medium GameRant, who have also provided an English translation of the Japanese publications of Kojima's study.
The jobs offered are for different positions, such as character artist, producers, audio designers, Project Manager, network programmers, designers and more categories that, according to speculation from the aforementioned medium, would indicate that the project is in a early stage development. The LinkedIn registration dates back two weeks.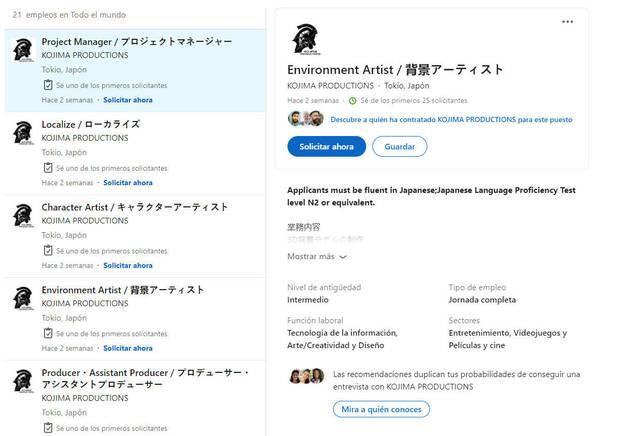 The job description asks the resumes submitter to talk about the most interesting games they have played recently and the technology trends of the video game industry that interest them the most. It is also specified that the jobs offered are full-time and that each employee is allowed to set their working hours starting at 10:00 am.
The team also works on Death Stranding: Director's Cut
Hideo Kojima announced at the Summer Game Fest Kickoff Live! held on the night of June 10 Death Stranding: Director's Cut, a version for PlayStation 5 of the work published on PlayStation 4 and PC that will bring with it some news not specified yet. Again, it will be published by PlayStation Studios, who will give more details in the coming weeks.
The Japanese creative has spoken in recent years about the intention of making a "revolutionary" horror game. Kojima has experimented with this genre in the past: together with Guillermo del Toro he began to develop Silent Hills, a project canceled by Konami and from which the popular demo was released P.T..
According to information, the creator of Metal Gear Solid started working on a game of terror in episodic format for Google Stadia, but it was canceled; the cloud gaming service has remained as a platform on which to publish games, but the Mountain Viewers have closed their internal development studios. Other sources indicate that he is in discussions with Microsoft.