Intellivision Friend, the console designed to offer a moment of play for the whole family, to debut in stores in Spain and around the world next October 10th. Each console will include two controllers and six pre-installed games, but some 30 exclusive Amico games will also be available in digital and physical formats, along with other accessories. Since Intellivision Entertainment Y Koch Media, which is in charge of distribution in our country, have wanted to share What are those six games that will be included in the console.
Intellivision Amico comes with 6 pre-installed games
"Every family entertainment system Intellivision Friend will be marketed with six pre-installed games and two controllers as standard"They detail from Koch Media in their press release." In addition, up to six smartphones can be used as controls with a free downloadable application ".
Sports games, dice, action or titles that will take us under the sea are some of the proposals that arrive installed on the console. The titles that we can acquire individually will have prices ranging from $ 2.99 to $ 7.99. In addition, from the company they point out that there is "another board game that is still secret", and which we assume they will reveal later. At the moment, these are the ones we know:
Evel Knievel

Dare to try impossible feats! Unlock multiple vehicles and outfits or jump the Serpent Dog with friends!
Biplanes

Take to the skies and storm the multiple modes of this action and air combat game based on the Intellivision favorite classic!
Moon Patrol

Drive a nimble and armed space vehicle through the wild moorlands of a far future solar system in this reinterpreted classic.
Missile Command

Protect your cities from ever-increasing attacks in this frenzied new version of one of the all-time classics.
Rigid Force Redux Enhanced

Take the captain's chair and prepare your reflexes for this fast-paced shooting game.
Finnigan Fox

Grab your magic crossbow and master the changing seasons in this platformer, puzzle, and loot forest adventure.
Dynablaster

Have fun setting traps and ambushes for your friends and family or put your skills to the test against AI-controlled opponents.
Brain Duel

Test and expand the limits of your gray matter, with this set of tasks and tools to train your brain.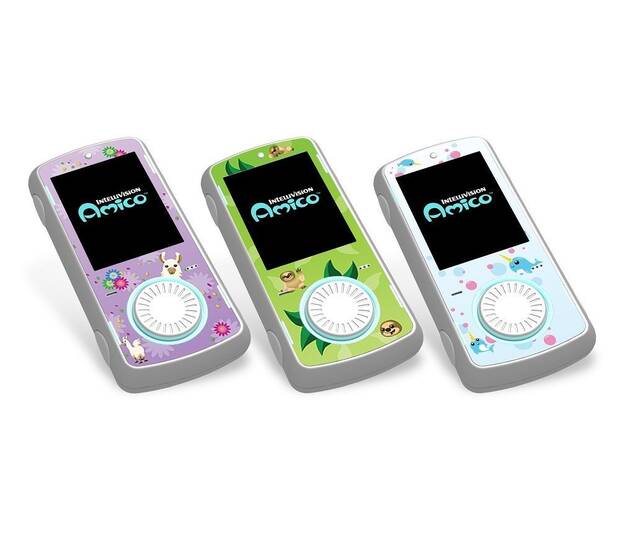 The console will arrive with six pre-installed games and two controllers as standard.
From Koch Media they detail that, in the coming days, more details will be offered on the contents of the physical editions. In addition, they announce a range of accessories for this new platform: a special bag for the Intellivision Amico transport console (PVPr 29.99); or one cover used to protect the Amico remote when you go out to play with your friends (RRP 17.99). In addition, ten different sets of shells for the remote (PVPr 17.99).
The console Intellivision Friend will launch the October 10, 2021. Its price, as reported at the time, will be around the 149 to the 179 dollars, but it has not been indicated how much it will cost in euros. You can find more details by visiting their official website.