The mobile version of Injustice 2, the fighting game with characters from DC Comics, shocked fans badly with an event that theoretically should celebrate LGBTQIA Pride Month + -As other publishers do, for example by giving away Tell Mey Why during June-. However, the players were very critical of the proposed idea, and the official account has apologized – The challenge? Defeat, precisely, a character recognized in the comics – and the game – as bisexual.
"Global Pride daily challenge update," the official account said in a deleted Twitter message. "Together you have defeated Entangling Poison Ivy 175,000 times. Keep it up, heroes. Defeat Poison Ivy 225,000 more times to unlock the first #Pride bounty." This was seen by many players as a great lack of tact, as basically proposed to celebrate Pride Month by "hitting" a character from this group.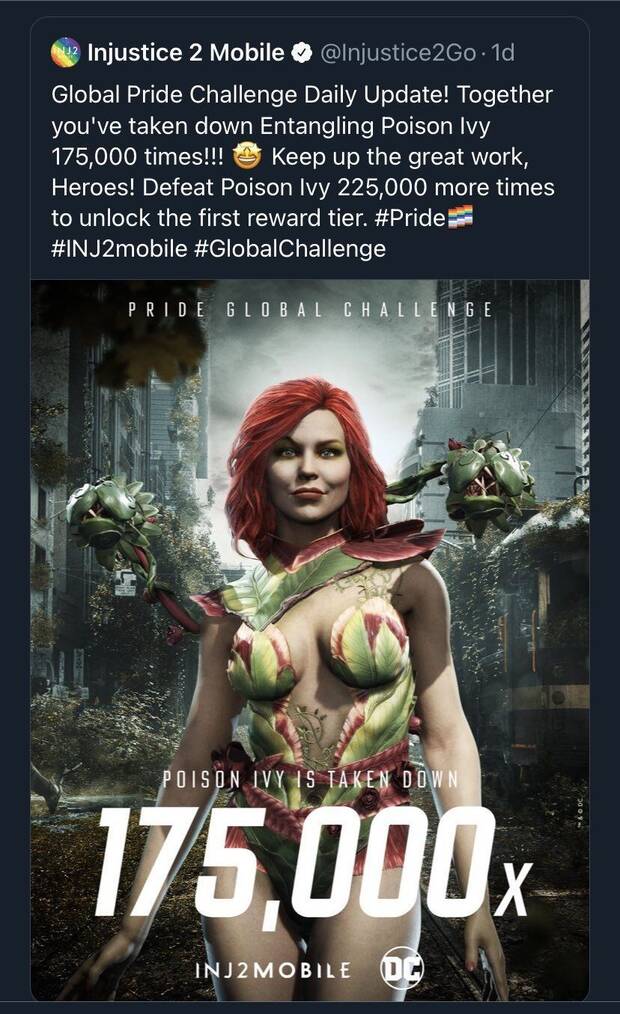 In the comics Poison Ivy was related to Batman but in recent years this villain has shown a loving interest in Harley Quinn, another bisexual character, and even in the alternate universe Injustice 2 #70 Poison is explained to have married Harley. "Ah, the beloved Pride celebration where a scantily clad bisexual woman is repeatedly punched in the face," can be read among Resetera's critical messages. "At least they have the rainbow flag in their profile picture," says another wryly.
Injustice 2 Mobile offers regular events for users to return to the game; in this case during June can batwoman unlock -In the comics it is usually confirmed that she is a lesbian- and the aforementioned challenge with Poison Ivy.
The developer apologizes
After criticism on social media, the official account has deleted the original message and issued another apology. "We recognize that associating our latest Global Challenge with Pride was insensitive and inappropriate. Actual violence against the LGBTQIA + community and women in particular in this community is far too common, and we should act to end LGBTQIA + violence, not normalize it," he says. in a Twitter message, which apologizes to the players and especially to the members of the collective.
pic.twitter.com/jZejuTr1Jf— Injustice 2 Mobile (@Injustice2Go) June 4, 2021