PlayStation Espaa has announced new offers on the PS4 and PS5 PS Store They are already available to all users, although some are exclusive to those with an active subscription to PS Plus. On this occasion, the discounts of up to 75% they focus on indies games, so we will find some alternative, fresh and original proposals discounted at a lower price than usual.
For example, the newly released Oddworld: Soulstorm, which has a version for both PS4 and PS5, can be found during these days at 39,99 on the PS Store. Also Spanish indie Summer in Mara has a discount that lowers its price to 10,99 8.79 if you are subscribed to PS Plus. Pocoyo Party It can also be purchased at a reduced price, specifically for 23,99 in general and 22.49 for members of the online gaming program.
Then we leave you with some featured indie offers available until June 18:
Desperados III

– 32,99

Disco Elysium – The Final Cut

– 27,99

Bloodstained: Ritual of the Night

– 19,99

Monster Boy and the Cursed Kingdom

– 17,99

Ashen

– 15,99

Dead Cells

– 14,99

Blair Witch

– 14,99

Outer Wilds

– 14,39

Kentucky Route Zero: TV Edition

– 13,19

Untitled Goose Game

– 11,99

Spelunky 2

– 11,99

Frostpunk: Console Edition

– 10,49

Undertale

– 10,04

Hellblade: Senua's Sacrifice

– 8,99

Trine 4: The Nightmare Prince

– 7,49

GREY

– 6,79

Outlast 2

– 5,99

Shadow Tactics: Blades of the Shogun

– 4,99

Friday the 13th: The Game

– 3,62

SOMA

– 2,84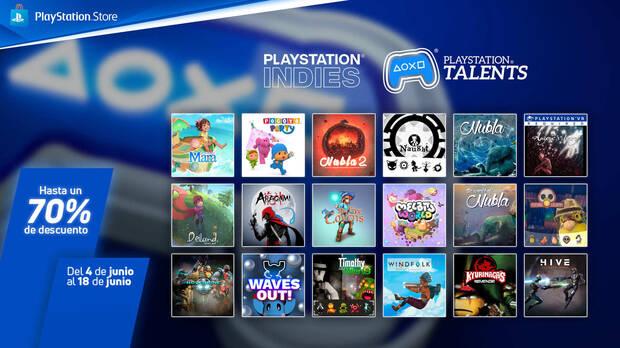 Additional discounts on PS Talents games
It should be noted that the PS Talents game catalog also has offers during these days, with discounts on titles such as Aragami, Deiland Special Pack, The World of Nubla O Melbits World.