More than 800 studies and independent authors have participated in Indie bundle for Palestinian Aid, a solidarity pack with more than 1000 games available on Itch.io in exchange for a minimum donation of US $ 5, which in Spain barely exceeds 4 euros. At the time of writing these lines, this solidarity action has already raised over $ 412,000 for Palestine, although its intention is to reach at least half a million dollars.
The organizer of this initiative, Tybawai, explains that she is grateful for the support that the community has given to this bundle which started with only 22 games. Little by little, indie developers and authors have been joining the initiative and, for now, there are 1019 items that can be obtained for that price, although whoever wishes can donate higher amounts. Todo lo recaudado ir a parar United Nations Relief and Works Agency, a non-profit organization that helps refugees in the area to overcome the blockade imposed by Israel for the last 13 years, as reported on its official website.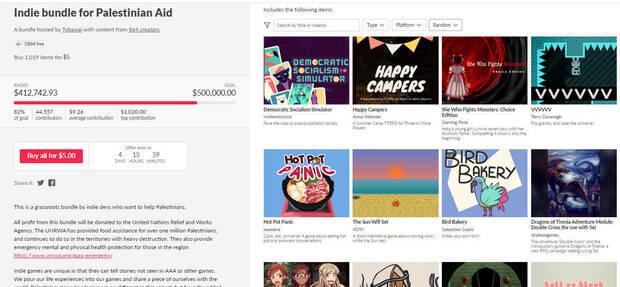 Over 1000 games, add-ons, assets, soundtracks…
In those more than 1000 items there are all kinds of games, from the best known to the strangest experiments, including soundtracks, assets and development tools and physical games available for printing. But there is one in particular that stands out: it is about Liyla and the Shadows of War, a game created by a Palestinian author which tells the story of a girl who is immersed in the 2014 Gaza bombings. You can see her trailer below:
Although it is a solidarity action to which you do not donate to get cheap games, within this bundle you can find some highly recommended indie works of authors and studies that have decided to include their work in this pack to support aid to the Palestinian people: titles such as the Spanish game The Fall of Lazarus, the military RPG Long Gone Days, Minutes O Signs of the Sojourner are included in the selection.