Guerrilla Games, the development team responsible for Horizon Forbidden West for PS5 and PS4, the way of working has changed compared to the previous installment of the saga. While Horizon: Zero Dawn It was created as a game centered on the gameplay and then a story was created that would fit the mechanics, this time the narrative, art, missions and design have worked together from the beginning, as he has explained to us Benjamin Mccaw, director of narrative, In an interview.
"On Horizon Forbidden West we work hand in hand with art, mission, and design teams to create this enormous open world that really fits the story perfectly", explains Mccaw, responsible for the plot." This time the development of these sections has happened simultaneously", unlike in the first game as the developers told in a documentary by NoClip published in 2017.
Mccaw talks about Aloy's evolution as a protagonist
Mccaw also spent a good part of the talk talking about the game's protagonist and the evolution of the character in this sequel: "Aloy is strong, independent, intelligent, compassionate. All within the context of her starting out as a motherless outcast and becoming a renowned machine hunter. "
"Besides," continues the head of narrative, "it has a powerful drive to unravel the mysteries of the forbidden west to stop the plague to save humanity. "He explains that they have tried "be faithful to the character", and "from then on we try to imagine how his evolution could be" on a journey that will take her to various parts of a post-apocalyptic United States.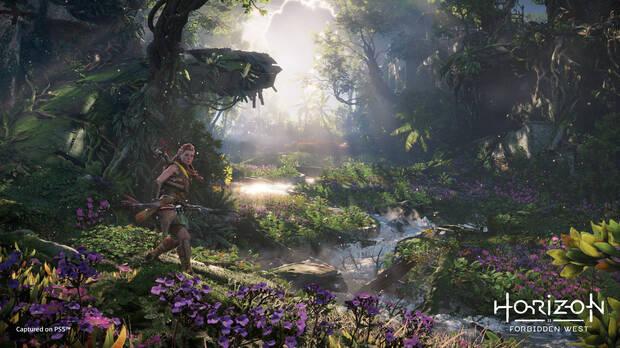 About this setting, he explains that it gives the team "the ability to combine." "Specifically, the beautiful and lush nature with huge and amazing machines. And we can add the idea that humans are no longer the dominant species. What that entails allows us to present something that is the beauty, but also extremely dangerous and full of exciting combat. "
"Another aspect to note is that it never becomes irrelevant," concludes Mccaw, "because also makes us reflect on the world of today and at the same time on the near future of humanity. And that's exactly what science fiction does. "In another part of the interview, which you can consult here, we talked about the new areas that we will see in this sequel.
Horizon Forbidden West reach PS5 and PS4. From PlayStation Studios they hope to be able to launch the game at the end of 2021, but they are not sure if they will have to delay it to 2022 as has happened with the new God of War.