Focus Home Interactive has shown a new video of its game of robbery, action and stealth Hood: Outlaws & Legends, developed by Sumo Digital. The video is a review of one of the maps where we can raid a loot with our companions, a coastal fortress of Caer Merthyr. This map protects its inhabitants with great walls, while visitors are fully exposed in its streets. In return, it contains some of the great riches of the empire, a very appetizing reward for players. The game will launch on May 10 on PC, PS5, Xbox Series X / S, PS4, and Xbox One.
Hood: Outlaws & Legends have five known maps: a large cemetery, a town surrounded by a swamp, the town of Foundtaindale, an outpost and the aforementioned shore fortress. All of them will offer alternative routes adapted to the classes of this multiplayer action PvPvE where we must get a treasure and flee from it while we face another side of players and the characters controlled by artificial intelligence that keep the relics.
Each class is adapted to a style of play: close combat, stealth, precision with the bow … Thanks to robberies we will be able to distribute money in the purest Robin Hood style and thus increase the variety of items for sale. to improve skills and equipment. There are also cosmetics and costumes that, without giving advantages in combat, serve to show our prestige in this adventure.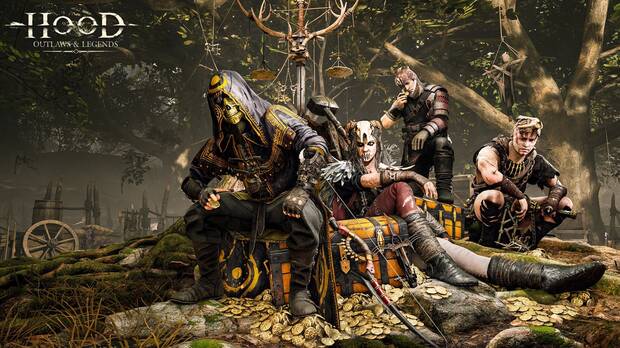 Outlaw or legend?
"The offer of online games is getting wider, in many cases with free models. To survive in this market Hood: Outlaws & Legends aspires to give something different, an experience that unites the best of the cooperative with the competitive in a setting as interesting as robberies in medieval times", we tell you in advance." Ammunition will be limited, the world is against your team and the chances of victory are slim, but the reward is well worth the effort: becoming a legend. "