Last October we informed you that Wim Buytaert, a known mud, I was working on an ambitious mod for Half-Life Alyx called Return to Rapture that, as its name suggests, allows us to explore the mythical city of the first two installments of BioShock with the incentive of being able to do it with our virtual reality helmet so that the immersion was total.
Rapture in virtual reality
Now, Buytaert and his team have just released the full version of this mod, thanks to which we can enjoy a new campaign composed of 8 different chapters in which we will delve into an original story created for the occasion and with which we seek to connect the plot of BioShock with that of Half-Life.
Among its characteristics highlights the fact that professional voice actors were employed, a new soundtrack has been created composed of RPM Studio warszawa, we can use plasmids and save our game in the Vitacmaras, there are audio diaries, etc. As you can see, it is not a simple mod and it goes much further, offering us a spectacular crossover expansion created by great fans of both series.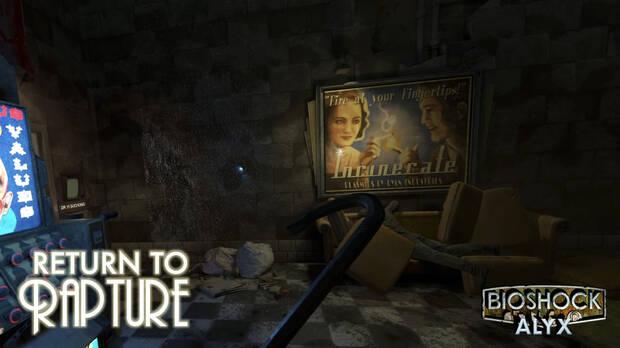 If you are interested in downloading this mod to try it out for yourself, all you have to do is go to its Steam page, subscribe and download it. Those, To have the complete campaign you must download the eight maps of Return to Rapture and its creator recommends us to have at least two free save files.
In this same news You can take a video look at what this mod looks like to get a more concrete idea of ​​the type of experience that awaits you when you enter Rapture and you have to face all the dangers that await you there.