GTA Online, the multiplayer mode of Grand Theft Auto V, this week dawns with all kinds of news for Spanish players and from all over the world. Rockstar has detailed the content of this new patch, with which users can enjoy double and triple rewards, as well as access to multiple discounts and benefits. We also discovered the arrival of special merchandise, free clothes and the verfld Entity XXR is the jackpot of the wheel of fortune, along with more bonuses. We tell you all the details under these lines.
Compete for triple the rewards in all land races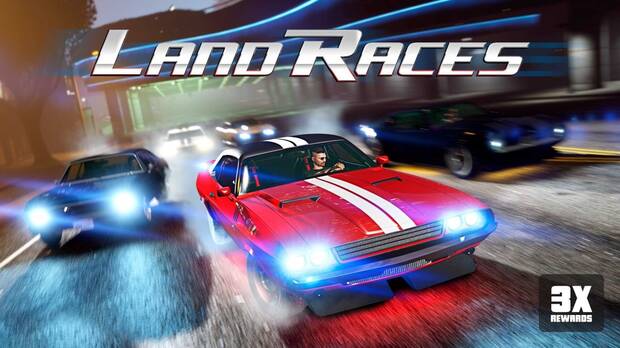 "If you do not lose control, you are not going fast enough. That is one of the contradictions and dangers that underlie the essence of racing," they detail from Rockstar. Fortunately, risk pays off: this week, all Rockstar-created land races offer Triple GTA $ & RP. Start a competitive series through the start menu or sign out using the option "Quick Activity" of your iFruit.
Double the rewards in trade battles and special merchandise sales
It's a great week for black market companies. The excess merchandise and contraband on the streets of Los Santos is good news for the most competitive and greedy players. Traffic all over the map in special merchandise sales while trying to avoid getting caught or participating in trade battles. Both activities offer Double GTA $ and RP during the next week!
Free clothing unlocked
Put on something comfortable and relax – all players who log into GTA Online this week will receive the navy blue striped pajamas and the navy blue striped dressing gown, totally free. Players above level 100 who log in this week will also get the blue checkered baton, less common (available within a maximum of 72 hours after logging in after June 14).
Free bar at The Diamond Casino & Resort
Why not celebrate your next big win with a free bottle of Bluter'd? Tastes best when the house invites. Then go through The Music Locker to have a shot of Fortune Hunter before hitting the track. All customers drink free until June 9.
This week's podium vehicle: verfld Entity XXR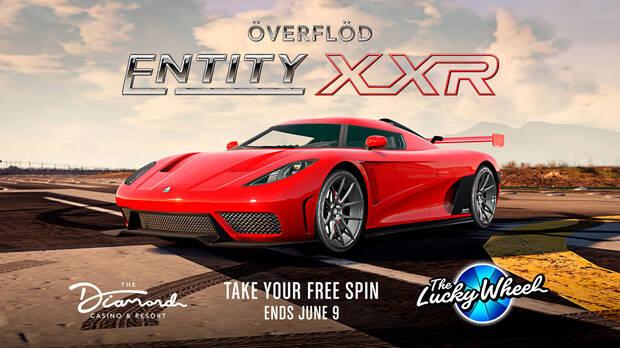 If, for whatever reason, you find yourself in the lobby of The Diamond Casino & Resort (Maybe you were browsing the casino store or enjoying a free shot of Macbeth at the bar), remember to try your luck at the wheel of fortune. I'm sure you take something with you: it could be money, RP, clothes, snacks or mystery prizes of all types and sizes. This week's jackpot is the Verfld Entity XXR, a Swedish-made hypercar combining cutting-edge technology, Scandinavian style and raw power.
Discounts
If you need help to integrate, all the clothing of Business and Import / Export sweatshirts are reduced by 50% the next seven days. Whatever your favorite style, don't get caught badly dressed in the club's bathroom queue. If you want to make a statement, the casino store has all the clothes of your shelves and racks at half price.
But there are plenty of other places to save money in Los Santos, including property. For example, if you aspire to a life of opulence, you have a 40% discount on the attic of the casino, in luxury apartments and their improvements; 60% in executive offices and 50% in all special merchandise warehouses.
Do you need a new vehicle? Below, we offer you the complete list of offers.
Karin Kuruma (Armored) 40% off
Imponte Ruiner 2000 35% discount
Pegassi Reaper 40% discount
Pegassi Osiris 40% discount
Vapid FMJ 40% off
Pegassi Tempesta 40% discount
Prime Gaming bonuses and benefits
GTA Online players linking their Rockstar Games Social Club and Prime Gaming accounts get GTA $ 100,000 just for playing anytime This week. In addition, Prime Gaming members will receive exclusive offers, such as 60% discount on the Maxwell Vagrant buggy and 80% on the Karin Sultan Classic sedan and the mighty Mammoth Limousine Patriot.