GTA Online, the multiplayer mode of Grand Theft Auto V, welcomes underground life and urban racing with its new update. Players from Spain and from all over the world can immerse themselves in the content offered by Los Santos Tuners, which brings with it the LS Car Meet social space, contracts, clothes, cars that we can customize and much more. As announced by Rockstar, some vehicles will receive exclusive PS5 and Xbox Series X / S upgrades once these versions arrive.
GTA Online: Los Santos Tuners Now Available
Lovers of cars and underground racing can meet up in the new Car Meet the LSWe are talking about a new club and social space where players can meet and display their custom cars, as well as test new vehicles with their friends on a private track, see how others modify their vehicles in real time, and many other functions that players they had asked us through their comments.
On the other hand, Rockstar announces 10 highly customizable new cars featuring a variety of tuning-inspired styles, a new shop to buy, 6 action-packed heist contracts, new careers, tons of functional upgrades, and much more. To be part of this club, you will have to pay 50,000 GTA $ of nothing you can become a member, which will also allow us to access hundreds of levels of unlockable clothes, new race modes, wheels and tires, special prices and contacts that will help you the end of the contracts.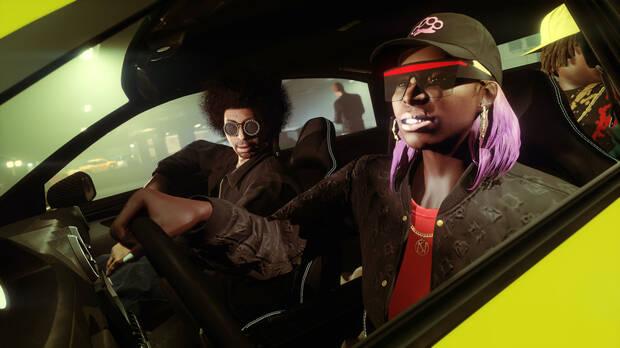 Following the launch of Los Santos Tuners, you will be able to test drive the Karin Calico GTF, the Annis Euros and also get to experience the Pfister Comet S2 in person which will arrive at Legendary Motorsport next week. Members can also access six new types of racing, to a shared workshop where you can customize your vehicles and see how others modify theirs, to an article store and to the prize vehicle: the possibility of Win the vehicle on display in the Vapid Slamtruck by participating in weekly challenges.
Wanted: precise pilots; no questions asked
The LS Car Meet is just the beginning: the contacts you will make there will open the doors for you to new opportunities to enjoy the action and earn fast money. Moodymann is an artist who shows his incredible talent on the decks of The Music Locker, but Kenny (also known as KDJ) also loves cars, and together with Sessanta, his partner, he seeks to make money by robbing high-value targets.
All you need to access their network is a workshop: talk to KDJ and Sessanta at the LS Car Meet and find out how to invest in one through the website of Maze Bank Foreclosures. Although the workshop functions as a legitimate business where you can modify vehicles and deliver them to your clients throughout the city, this property also serves as a base of operations for carry out contracts.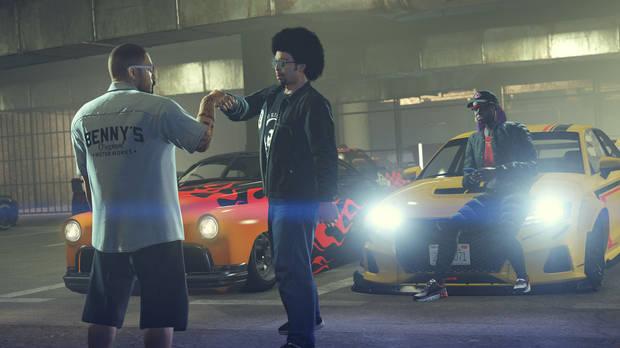 Contracts allow access to the big hits: robbing the IAA, Merryweather, etc. Each consists of planning and ending missions, and can be played alone or with up to three other players. A vehicle precisely modified to your needs and requirements will be an extremely valuable resource in these missions.
More music
Los Santos Tuners arrives with some changes to the radio dial and with new ways to find and listen to music while you roam the streets. Simply locate a number of collectible multimedia devices containing music that you can enjoy in your car.
If you find the Moodymann multimedia device, you will discover a fabulous summery mix of classical themes and exclusives including stellar collaborations from Nez, Gangsta Boo and Jessie Johnson of The Time, Prince's legendary band. It will be perfect to give you a spin around the city or to put it on your next barbecue.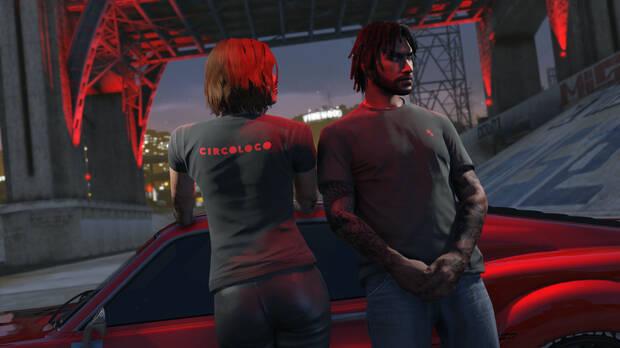 You can also find all four EPs "Monday Dreamin '" from CircoLoco Records, the new record label created by Rockstar Games and CircoLoco, the legends of club culture. If you get hold of all four Monday Dreamin 'multimedia devices, you will unlock a special version of the Monday Dreamin' compilation in DJ mix format with new interpretations of the 20 songs created exclusively for Los Santos Tuners. Get the four CircoLoco multimedia devices to instantly unlock the CircoLoco t-shirt.
New cars
Today's launch includes a batch of 10 highly modifiable new vehicles, both domestic and imported, of different classes:
Obey Tailgater S
Annis Euros
Dinka RT3000
In recent years, ZR350
Vulcar Warrener HKR
Karin Calico GTF
In recent years, Remus
Dinka Jester RR
Karin Futo GTX
Vapid Dominator GTT
Born x Raised hits the LS streetwear scene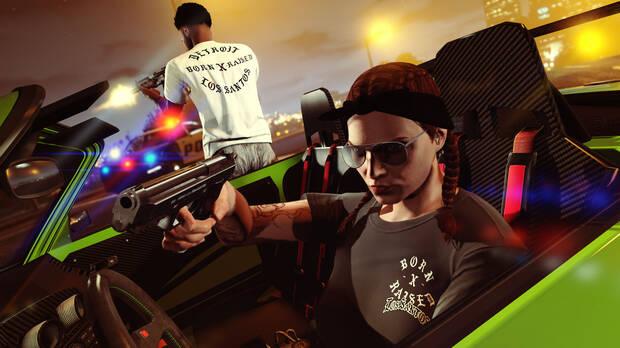 Pick up the Black Born x Raised T-Shirt at any clothing store and unlock the White Born x Raised T-Shirt by completing the Final of a Robbery Contract.
We accelerate to the next generation
This fall, the launch of Grand Theft Auto V for PlayStation5 and Xbox One X | S will take vehicle performance to a new level with higher top speeds on select vehicles modified at the LS Car Meet.
This week: recreational giveaway
If you play GTA Online anytime this week, you can get the recreational Race And Chase inside the free workshop when you buy it, whether you buy it now or in the future.
Award vehicles, test vehicles and much more
At the LS Car Meet, every week there are new and fantastic opportunities to test your skill (and the vehicle specifications): take a shot at a selection of three test vehicles on the test track and take on the Weekly challenges to try to win various prize vehicles that will rotate.
Look for the award vehicle atop the LS Customs Slamtruck and complete the weekly challenge for a chance to take it away. This week is about the mind-blowing Annis Remus, which you can earn if you finish in the top three in a street race three days in a row between now and July 27. Also remember to take a look at this week's test vehicles: the new Karin Calico GTF and Annis Euros, and the Pfister Comet S2, which will go on sale next week. You can now take a ride with them on the test track.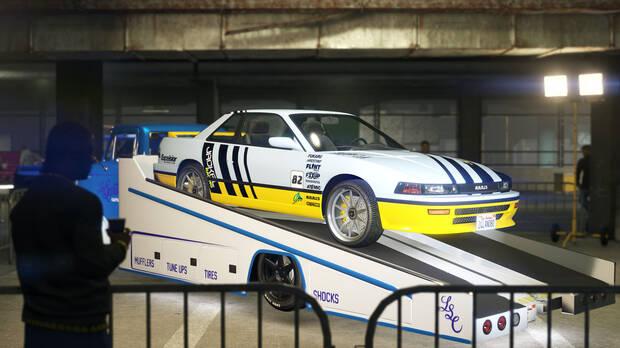 Rewards for the LS Car Meet
Anyone who participated in last week's match playing GTA Online between July 15-19 and logs in this week will get the LS Customs T-shirt. Players who participated in an impromptu race between those dates and play this week will receive the LS Customs Tour Jacket, while those who stole a vehicle and sold it to LS Customs will get LS Customs jumpsuit. All this for free and in less than 72 hours after playing.
Rewards for CMLS Members
Visit the LS Car Meet this week and you will get the LS Customs jacket. If you join, you will receive the Ron Racing Cover for the Pfister Comet S2, which goes on sale next week. Take part in a short challenge before July 28 to earn the Yellow Rockstar Standard T-Shirt. If you increase your reputation and reach car club level 20 before August 17, you will earn GTA $ 250,000 bonus. All these awards will be delivered in less than 72 hours after obtaining them.
And much more …
A lot of attention in the next few weeks. LS Car Meet members will have access to changing selections of test vehicles, award vehicles and challenges. We are also preparing new vehicles, novelties in theft contracts and more collectibles on the city shore.
This week's event bonuses
Get double the rewards in the San Andreas Super Sport series and visit The Diamond Casino & Resort for a chance to win the Ocelot Lynx at Wheel of Fortune. Also, take advantage of the following offers:
Maibatsu Penumbra FF: 30% off
Elegy Retro Custom: 30% off
Vapid GB200: 40% off
BF Club: 40% off
Michelli GT lamps: 40% off
Savestra years; 40% off
Karin Sultan: 40% off
Vapid Dominator GTX: 40% off
Advantages of Prime Gaming
GTA Online players who link their Rockstar Games Social Club and Prime Gaming accounts will receive GTA $ 100,000 for playing anytime this week. Additionally, Prime Gaming members can get the workshop located in Strawberry for free, in addition to exclusive offers, such as a 70% discount at the Buckingham Valkyrie and an 80% discount at the Dinka Sugoi.