GTA Online, the multiplayer mode of Grand Theft Auto 5, wants to celebrate with the Spanish players and from all over the world the Independence Day. That's why Rockstar has announced the arrival of triple and double rewards, themed bonuses and discounts, and much more. We can also discover thematic gifts such as the free parachute from the USA, t-shirts that we can unlock and the Declasse Hotring Saber as a prize of the casino's Roulette of Fortune.
Celebrate Independence Day in GTA Online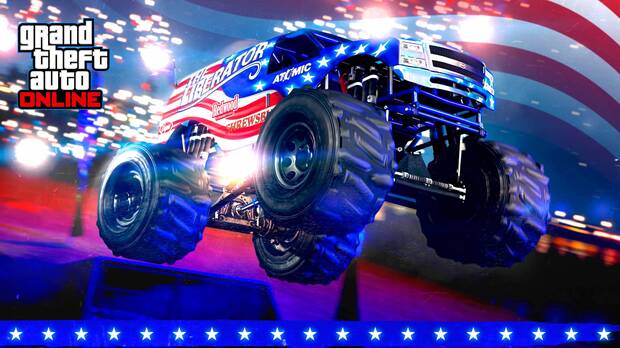 "Independence Day is celebrated in style in Los Santos and in Blaine County this week, "they detail from Rockstar." The excess of patriotism offers discounts on all kinds of items and big profits if you are willing to gamble on the heights and depths that you can only find here. "
Double GTA $ & RP on Treasure Chests and Hidden Caches
Treasure hunters can set out to scour the tropical terrain of Cayo Perico and the vast ocean floor in search of Treasure Chests and Hidden Caches that will award Double GTA $ & RP usual. The submarine retired Killer whale and all its customizations are discounted by 25%, so there is no better time to visit the sunny beaches of the Rubio fortress and the murky depths of the ocean.
Triple the rewards in mobile operations and Gathering
Shadow trading is one of America's most celebrated exports. Aspiring warlords with a Mobile Operations Center can contact Agent 14 and take home the triple the money and RP than usual in all mobile operations.
Thinking of doing a little spying? Players can buy the Mobile Operations Center, in addition to all its improvements and modifications, with a 40% discount at Warstock Cache & Carry until July 7. Also, take to the skies in fighters to take the triple rewards in Collection this week.
Play to unlock the BCTR jersey
Truckers, conspirators, and everyone in general can get hold of the free BCTR T-shirt this week just for playing GTA Online.
Awards in trade battles
This week, pay attention to trade battles. If you're lucky, picking up or retrieving the relevant merchandise can get you the Pisswasser, Benedict, Patriot and Supa Wet caps, or the Statue of Happiness T-shirt.
This Week's Podium Vehicle: Declasse Hotring Saber with Patriot Beer 19 Cover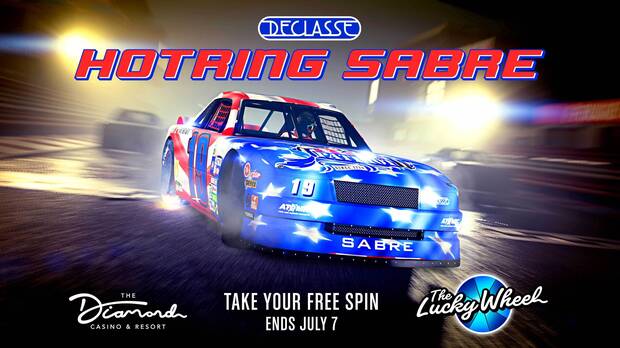 Stop by the lobby of The Diamond Casino & Resort between fireworks battles to try your luck at Roulette of Fortune. You can win GTA $, RP, clothes, snacks and mystery prizes of all shapes and sizes. This week's podium grand prix is the Declasse Hotring SaberMade to sweep the Hotring Circuit and customized with the Patriot Beer cover so you can be more patriotic than anyone else.
Discounts
Get your patriotic streak out and take advantage of 50% off Instruments of Destruction, customizations, fireworks and more for Independence Day.
Vapid Liberator
Western Sovereign
Clxones
Musket
Can of pyrotechnics
Pyrotechnic Cannon Ammo
Smoke for tires and parachutes
Face paint and clothing
Covers for the Mobile Operations Center
Weapon Skin Mk II
Haircuts
Mscaras
patriotic parades
In addition to the above discounts, all players can get a US parachute backpack totally free at any Ammu-Nation.
More discounts
All bunkers are half price for the next seven days, as well as its renovations and modifications, so that you can customize your den to your liking. Also, below you have the complete list of vehicles on sale this week.
Vehicles:
Vapid Winky 30% off
Dinka Veto Classic 30% discount
MTL Fire Truck 30% discount
Vapid Flash GT 30% off
Albany Roosevelt Value 40% off
Declasse Drift Tampa 40% off
Nagasaki Buzzard Attack Chopper 40% de descuento
Western Company Annihilator 40% off
Titan 40% off
Western Company Besra 40% discount
Prime Gaming bonuses and benefits
GTA Online players linking their Rockstar Games Social Club and Prime Gaming accounts get GTA $ 100,000 just for playing anytime this week. In addition, Prime Gaming members will receive exclusive offers, like a 70% discount at the Buckingham Valkyrie and an 80% discount at the Dinka Sugoi.