Are you ready to leave behind the benefits of modern life, and immerse yourself in an adventure in the middle of the Middle Ages? If the answer is yes, then take note: Going Medieval is now available in early access phase for PC, both on Steam and on the Epic Games Store and GOG. Its price is 22,99, although until June 8 a 10% discount is applied. The editor The Irregular Corporation and the developer Foxy Voxel have taken advantage of this debut to present a new trailer, which you can enjoy under these lines. We have also learned the content of your future updates.
Going Medieval is now available in early access
"Winter is over, the sun is shining and people are ready to build a new future", is the premise that presents us Going Medieval in your description. In this sense, the three pillars of the game will be the following: build, manage our resources and survive. The title immerses us in a medieval environment where we will have to use our best skills To deal with this hostile world It is the year 1346 and the world is reeling from the tragedy of the Black Death.
Although the game has been polished with the comments of the players, from Foxy Voxel they have drawn a whole path of content updates need to add improvements and new features to the title during its early access phase: ruins, merchants and caravans, religious influences, natural caves, factions, prisoner system, agriculture, diplomacy, social interactions or big goals to meet.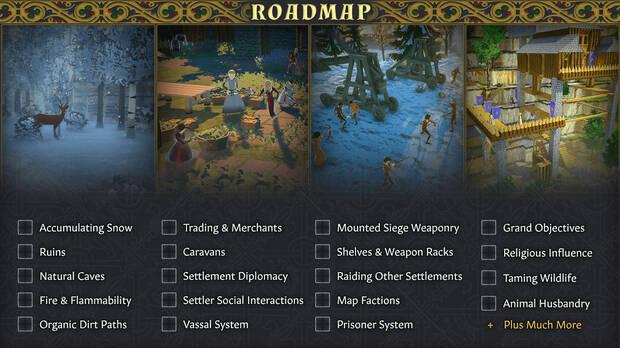 It is the year 1346 and the world is reeling from the tragedy of the Black Death
On Going Medieval we will go on to embody the survivors of the calamity of the epidemic, who decide to migrate and settle in natural areas. "Players will have to guide your villagers and protect them from bandits, barbarians and religious fanatics in an era in which, after a pandemic, classes, borders and laws have disappeared ", detail the creators. Erecting our settlement and defending our villagers will be two of our objectives, while we face dangers like other men, wild animals, hunger or the weather itself.
In addition, we will have the opportunity to get to know our villagers: each one of them has a history and intentions of its own, and it will also be our responsibility to be aware of it. "And remember, happy villagers are productive villagers," they also point out from Foxy Voxel. They maintain that Going Medieval is designed for a single player and that, thinking about replayability, there will not be two equal games.
We remind you that Going Medieval is currently available in early access phase on Steam, Epic Games Store and GOG, for a price of 22.99 euros (although now it has a discount of 10%