Genshin Impact throw this Wednesday March 17 from 2021 at 06:00 (UTC + 8) its new update 1.4 in Spain and the rest of the world, entitled Encounter with the wind flowers. In the last few weeks we have been learning about some of the content that will be added to the game for free. Now miHoYo, its managers, have shared an extensive article in which they compile all the news of the patch. Here below you can consult the most important ones.
Version 1.4 Encounter with the wind flowers

Many things for such a short time right? Here Paimon brings a summary of all the new events.

take a look!

The dates indicated are based on the server's time zone.#GenshinImpact pic.twitter.com/4BjD232McA— Genshin Impact ES (@genshinimpactes) March 15, 2021
Compensation with free Protogemas
First of all, myHoYo is going to give a compensation to all players with Protogems due to the update of the servers and derivatives, which will last for about 5 hours. These Protogems should reach your in-game mailboxes if you are already Adventure Rank 5 or higher before March 17th.
Compensation for server upgrade: Protogem 300 (will give 60 Protogems for each server shutdown time).
New character in version 1.4: Rosaria
This version brings with it the addition of just a new character to join the broad staff of playable protagonists of Genshin Impact; these are its details and characteristics:
Rosaria, the Blessed Impa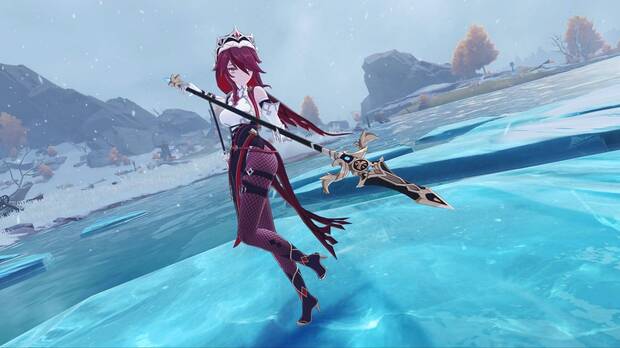 A nun who, apart from her clothes, no one would say that she belongs to the clergy. Her coldness towards everything makes her extremely incisive and she always acts alone.
Rarity: 4 stars.
Cherry: Cryo.
Weapon: Lance.
Elemental Skill "Unpronounceable Confession": Rosaria sneaks up behind the enemy and deals Cryo damage.
Ultimate Ability "Extreme Unction": summons an icy spear to periodically deal Cryo damage to surrounding enemies.
New weapons and equipment
The game also receives new weapons and equipment. From the release of version 1.4 until April 6 the gachapn divine incarnation will give us more chances to obtain some of these new weapons:
Elega del Fin: bow (5 stars).
Flash in the Dark: light sword (4 stars).
Wine and Poetry: catalyst (4 stars).
Alley Hunter: bow (4 stars).
Ode to the Wind Flowers: bow (4 stars).
Version 1.4 Encounter with the wind flowers: new equipment

Hello travelers! Today Paimon will introduce you to the weapons that will appear in the next gachapones. Let's see them!#Genshinimpact pic.twitter.com/63AynPVmKC— Genshin Impact ES (@genshinimpactes) March 15, 2021
New events
Genshin Impact version 1.4 add mainly from events of which miHoYo has shared these details.
Encounter with the wind flowers
You will be able to participate in the challenges of the Wind Flower Festival to get festival coupons and quirky coupons. By participating in this event, you can redeem the exclusive weapon Ode to the Flowers of Wind, Crown of Wisdom and the refinement item "Visible Wind" (exclusive to the weapon Ode to the Flowers of Wind), among other rewards.
Playable phase duration: from March 19, 2021 at 10:00 a.m. to April 5, 2021 at 3:59 a.m.
Duration of the exchange phase: from March 19, 2021 at 10:00 a.m. to April 12, 2021 at 3:59 a.m.
Festive anecdotes
In this event, the missions of the Wind Flower Festival. The festive anecdotes are divided into four phases, each phase bring new missions. After completing missions, you will be able to obtain Protogems, character EXP materials and Mora, among other rewards.
Phase 1: from March 19 at 10:00 a.m. to April 5 at 3:59 a.m.
Phase 2: from March 22 at 04:00 to April 5 at 03:59.
Phase 3: from March 25 at 04:00 to April 5 at 03:59.
Step 4: from March 28 at 04:00 to April 5 at 03:59.
New Encounter system

In version 1.4 will also add the new Encounter system. Thanks to this function, you can use two Legendary Keys (found in daily orders) to separately unlock Encounters with the characters of Barbara, Noelle, Chongyun and Bennett. These are special legendary missions in which we can discover more about these characters and make decisions to have different endings.
It is a characteristic that already We explain you in more detail in this other news. In order to access it, you will need to have reached the Adventure Rank 26 and complete a previous mission.
Other new content
Between other important news, new quests, items, monsters, and more are also added to the game.
New Archon Quest: Chapter I, Act IV – We will meet again.
As you progress in the different phases of the Wind Flower Festival: 8 exclusive Festival-related world missions will be unlocked consecutively.
New lite monsters: Emissary of the Abyss – Evil Rapids (only appears in Archon missions in v. 1.4).
New items: Balloon commemorating the festival, Lira de la brisa and Endora.
New recipes: Shrimp Cocktail on French Fries, Mint Jello, Mint Salad, Mint Meat Rolls, Crispy Chicken Burger, Fried Chicken and Mashed Potatoes.
New cards: PB – Flowers of Wind and Rosaria – Servitude.
New achievements: Achievements added in "Wonders of the World".
Transmutador paramtrico: now accepts minerals as transmutation materials.
PNJ Changshun de Liyue: new products for sale (potatoes, sugar, cheese, cor lapis and electrocrystals).
PNJ Bolai de Liyue: new products for sale (apples, solsettias, fish and star shells).
We remind you that you can visit our complete gua to know the best tips and tricks from the miHoYo game. Genshin Impact It is a JRPG and Role free to play available in PC, PS4, PS5, y mviles Android e iOS (coming soon to Switch). If you want to know more about him, do not hesitate to read our analysis.