miHoYo has released update 1.6 of Genshin Impact, the free RPG for PS5, PS4, PC, iOS and Android, which adds a new zone for a limited time, the new playable character Kaedehara Kazuha and more. This season we will help Klee by receiving a letter from "King Dodo" that threatens to take away Klee's friend, Dodoco. Therefore, players will have to navigate the Breakwater through a remote sea area and search for the mysterious "Dodoland" on a group of islands. During the quest, players will be put to the test with a series of challenges, including a tough fight with Oni Swordsman. This new opponent can summon ghosts, which deal damage to Anemo and Cryo, and can only be defeated at close range. By overcoming challenges, players can earn event coins to redeem valuable resources and the new four-star catalyst for maximum upgrades in the event store.
Will also be added two summer-themed changing rooms, and players can dress Jean and Barbara in the game's new alternate costumes. Jean's "Dream of the Sea Breeze" can be purchased from the in-game store at a limited-time discount, while Barbara's "Radiant Summer" will be free if certain "Echo Storyteller" event requirements are met. .
Kaedehara Kazuha
Kaedehara Kazuha, Inazuma's first playable character, also released in version 1.6. Wielding Anemo power and a sword, Kazuha is a strong five-star character who can provide additional control and support to the team. His Elemental Skill and Ultimate Skill can not only deal Anemo damage and solid control of enemies, but also deal additional elemental damage if they come into contact with Hydro / Pyro / Cryo / Electro. At the same time, Kazuha can further empower his teammates with an elemental damage bonus corresponding to his element once a whirlpool reaction is triggered.
Kazuha will also appear in the new Archon mission. Traveling with Beidou and his Crux Fleet, andThis wandering samurai give clues on the way to the closed Inazuma.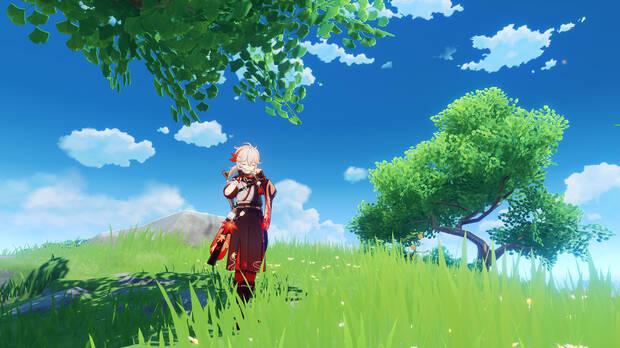 Other changes
To further enhance the experience, new optimizations will also be added in version 1.6, including the new function of the Relaxer to invite your own characters to reside in the internal world. Characters within will gradually increase their friendship level over time, affected by the range of adptic energy in the internal world.