miHoYo has released version 2.0 for Genshin Impact, his hit open-world action RPG. This update – with rewards for upkeep time – mainly adds the Inazuma region, the new playable characters Kamisato Ayaka, Yoimiya and Sayu, new equipment, new systems, new events, missions and much more that has been detailed on the official website. Genshin Impact It's available on PlayStation 5, PlayStation 4, PC, iOS, and Android, with a Nintendo Switch version to come later. Now there is also Cross save between all platforms, PS5, PS4, PC and mobile.
Inazuma, a region surrounded by the sea known as the nation of Eternity, brings three new areas: Narukami Island, Kannazuka and Yashiori Island. To unlock the area you need to reach adventurer level 30 and complete Chapter II: Act I The Immovable God and the Eternal Euthymia. "An alien storm divides the sky, breaking eternity. The flash of lightning breaks through the darkness, while the will of a divine being becomes manifest", says his story. "Overcome the perpetual storms, enter the island of cherry blossoms and witness the eternity His Excellency aspires to. "The Shogun Raiden who rules the city wants to achieve immortality, a theme that will be recurrent throughout the new plot.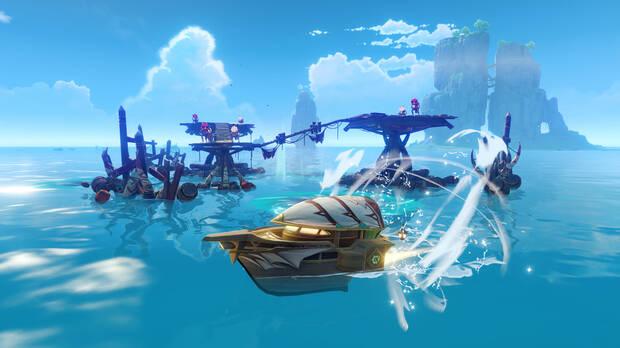 We will see new enemies and animal species, missions and other content, in addition to a variable and unstable climate even with lightning. Inazuma puzzles will be a bit different from other areasSince here you will need to think and use the elements of the scenario, they do not require a specific character to solve. Seeds can also be collected to plant in the kingdom.
The new characters are:
Kamisayo Ayaka, 5 stars, Ice Powers (Glacial Devastation)
Yoimiya, 5 stars, fire powers (Flammable Technique)
Sayu, 4 stars, ninja powers (Clone Technique)
PlayStation 5 enhancements
The new update adds new trophies on PS4 and PS5, but the new generation of Sony is the most benefited with graphical enhancements in lighting and shadows, as well as better use of the DualSense controller's hepatic response with the use of the bow and paraglider, the texture when running between the trees and when doing certain actions in the world of Genshin Impact.