Offered by GAME Spain.
Monster Hunter Stories 2: Wings of Ruin launches on July 9 and GAME Spain is preparing exclusive gifts for those who reserve Capcom's next great adventure for Nintendo Switch. The hunting season is back with Wings of Ruinpacked with hundreds of hours of farming, fun and loot. Will you be up to the challenge? Pre-order the game on GAME and get the following:
MANGA of 208 pages and that is the first volume of a series of manga based on the game.
DOUBLE-SIDED PSTER with illustrations of the game and its cover, to decorate your room as the best hunter.
Reserve of Monster Hunter Stories 2: Wings of Ruin and GAME.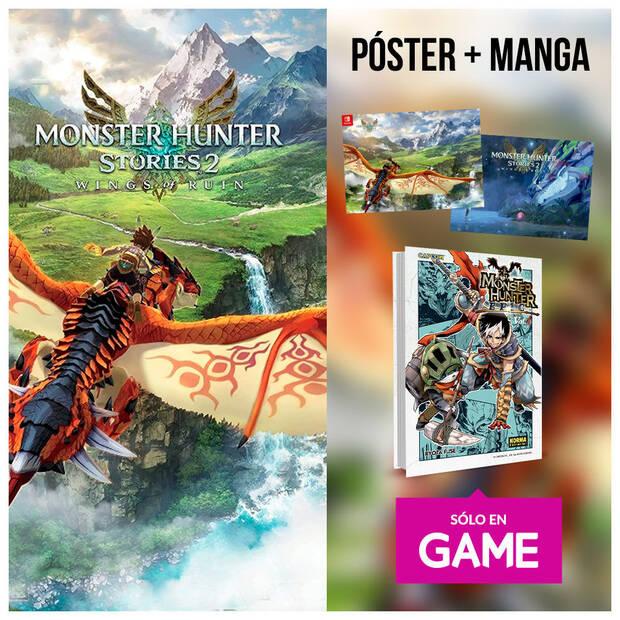 Put yourself in the shoes of a Monster Rider and live incredible adventures in Monster Hunter Stories 2, Roll with monsters and create them while you unravel the mysterious events of their history.
An RPG with turn-based combat
Wings of Ruin is the second installment in this series of turn-based role-playing games set in the world of Monster Hunter. Play as Red's grandson, a Legendary Rider. The story begins when the chances of fate lead you to meet Ena, a Wyverian girl who has been entrusted with an egg containing a legendary Rathalos that could wreak havoc if her powers of destruction awakened. Set out on a journey that will test the bonds of friendship in an ever-changing world, and discover the truth behind the legends of yesteryear.
The Riders will be able to use their strategies to stop the advance of the rival monsters, something for which it will be essential to know the fighting style of each one of them. In the style of the JRPGs of collecting creatures and battles, we will make our own team of monsters and we will be able to improve their skills as they gain experience in combat. You can target and weaken specific parts of enemy monsters, team up with the Monsties to carry out double attacks, or join forces with companions to unleash powerful Kinship Attacks.