Offered by GAME Spain.
Dying Light 2: Stay Human launches on December 7. It is the long-awaited sequel to the first Dying Light, with humanity defeated by a strange virus. Our goal will be the same: stay human and survive countless dangers in an open world full of moving zombies. parkour and lots of action. If you dare to enter this world, GAME Espaa offers several editions of the game and among them exclusively the edition for collectors that includes a large amount of additional content that will help you on your adventure and will be added as a very useful button and supplies. for your video game collection. Do not forget to book Dying Light 2: Stay Human and GAME.
Editions of Dying Light 2: Stay Human available in GAME
DYING LIGHT 2: STAY HUMAN EDICIN COLECCIONISTA Exclusiva GAME:
Play DYING LIGHT 2.
Statue of the Defender of the City, and it includes a stylized UV lamp.
Linterna UV.
Stickers pack.
City map.
Thank you letter from the team DYING LIGHT 2: STAY HUMAN.
Exclusive metal box.
Hardcover art book.
Special collector's box with all the content.
All the content of the EDICIN DELUXE.
Edition only available via private reservation method for those people who reserved the STNDAR or DELUXE editions in GAME, and that will be offered by email soon. More information here.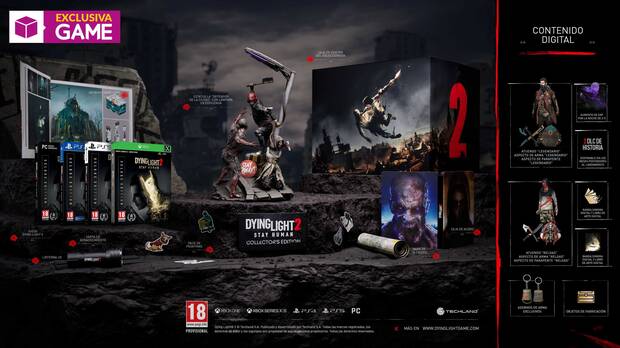 DYING LIGHT 2: STAY HUMAN EDICIN DELUXE en GAME:
Play DYING LIGHT 2.
Access to the future DLC with the expansion of the game's story, which will be released in the months after launch.
Exclusive weapon charms (digital content).
Outfit, Weapon Skin and Passport Skin "Legendary" (digital content).
Ready-to-print wallpapers.
Cmic digital.
Digital art book.
Digital soundtrack.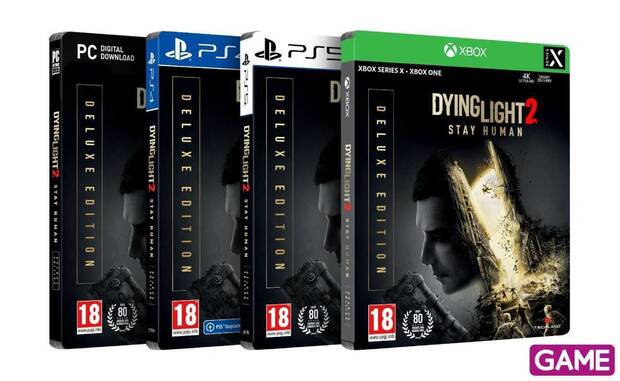 DYING LIGHT 2: STAY HUMAN EDICIN ESTNDAR en GAME
Play DYING LIGHT 2.
Fight to survive
The story of Dying Light 2 15 years elapse after the apocalypse occurred. The virus that was introduced in the first installment has mutated to the point of creating new types of infected and dangers that we will have to face during the course of history. As night falls, new enemy variants will appear. The protagonist that we will handle will be Aiden Caldwell, a man who seeks to unravel one of the mysteries of his past. At first we will be alone, but soon we will be welcomed by the Nightrunners, a group of veteran survivors who were in charge of helping people. Although Aiden cannot blindly trust them, he will have no choice but to collaborate to survive.