Offered by GAME Spain.
Crystals, the role play that to arrive on July 20, it can now be reserved in GAME stores and with a reward: an exclusive set of in-game postcards. It is an adventure that will steal your heart, a mixture of various mechanics together with its peculiar game system, technical section and enormous possibilities is a delight for fans of the RPG genre. An adventure that you cannot miss and that in GAME you will get together with 3 themed postcards of the game.
Cris Tales reserve in GAME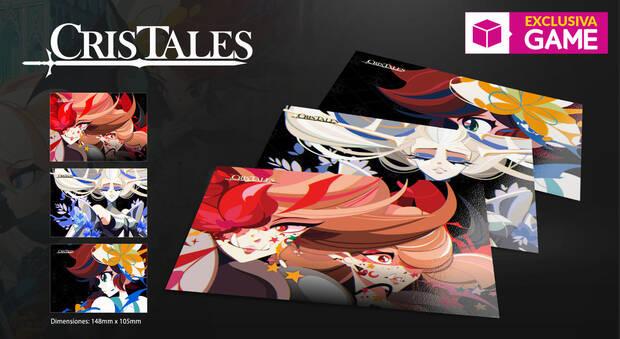 It lives the awakening of Crisbell, the Magician of Time, and join her fantastic companions in a fantasy world facing a dark future. The mighty Empress of the Ages and her forces threaten to cause a cataclysm that will destroy Crystallis and the other four kingdoms of the region. To stop the Empress and rewrite the future of the nation, you will embark on a stormy journey across the realms where you will meet and recruit powerful allies to aid you in the fight.
Master her abilities and Crisbell's unique time magic to defeat powerful foes
Send your enemies to the past to face a younger and weaker version, to the future in which they have succumbed to the damage of a poison applied in the present or create your own strategies in this combat system. Your decisions in this world will have important consequences for the rest of the characters you meet. Explore the past, act in the present, and watch your decisions dynamically change the future.
Crystals it's a heartfelt tribute to classic JRPGs with a new perspective where you can experience a unique combination of branching stories, innovative combat and the excitement of a classic RPG about how our actions are repeated in time.