* Sponsored content.
GAME has announced the booking extras Blasphemous, to arrive in physical format in standard and collector's editions for Nintendo Switch y PlayStation 4 the next April 9th. Those who pre-order the game will get a postcard set Containing two high quality images at a size of 27.60 x 17 CM of The Game Kitchen game.
Blasphemous Edicin estndar para Nintendo Switch – 39,99
Blasphemous Collector's Edition for Nintendo Switch – 79.99
Blasphemous Edicin estndar para PlayStation 4 – 39,99
Blasphemous Collector's Edition for PlayStation 4 – 79.99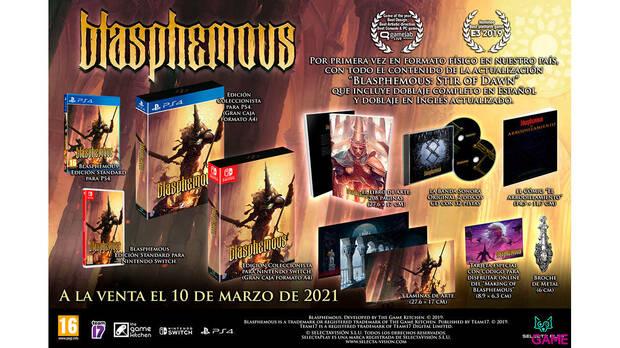 The collector's edition includes the following extras:
Game BLASPHEMOUS.
Large A4 collector's edition box.
208 page art book (27.6 x 17 CM).
3 exclusive 27.6 x 17 CM art prints.
Original 2-disc soundtrack on CD with a total of 32 tracks.
Cmic Kneeling.
Special card with code to enjoy the online Making Of Blaphemous.
Metal brooch inspired by the 6 CM game.
The physical version includes all the content of the update Stir of Down which was published in August 2020, adding a new full Spanish dubbing, new campaign content, a new Penance system, new executions and counterattack mechanics, new items, graphical improvements and balance changes enemies and other game elements.
The edition in physical format arrives in Spain
The American company Limited Run Games released physical editions of Blasphemous in November 2019, but now it is the first time that the game arrives in physical format in Spain including the free updates released till the date. The game was recently updated with a crossover of Bloodstained: Ritual of the Night. The Game Kitchen announced in March that the title has exceeded one million players.
"Blasphemous It is a highly recommended action adventure, platforms and exploration with a very attractive setting, and that by taking elements of well-known formulas, such as Souls and the metroidvania, get build something of your own, which has a lot of charm", we said in our analysis. "A very absorbing and challenging game, that although with its flaws, both technical and playable, if you like this type of adventure you are sure to enjoy it a lot, it is surprisingly addictive."