Offered by GAME Spain.
The GAME chain of stores prepares to welcome the popular card game Shadowverse: Champions Battle: will be available on Nintendo Switch this August 13, based on the Japanese animation series of the same name. For players to prepare for its launch, from GAME they offer 30 days of free anime streaming platform Crunchyroll for those who pre-order the game. Reservations can be made both through the website and in physical establishments.
Shadowverse: Champions Battle – Reserva en GAME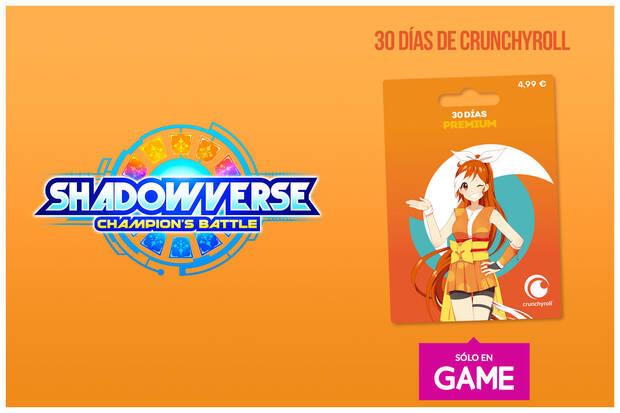 "Become a GAME with Shadowverse Champion's Battle and get an exclusive gift of 30 days of subscription to Crunchyroll, the world's largest anime catalog, unlimited and without ads, hundreds of manga chapters and exclusive savings in the Crunchyroll store ", detailed from GAME on the product page. The price of the game is 49.95; on the web we can also find different types of Crunchyroll subscriptions:
30 the Premium de Crunchyroll – 4.99
90 the Premium de Crunchyroll – 13.99
12 meses Premium de Crunchyroll – 39,99
"Enjoy whenever and however you want this gift subscription on any device, be it a console, PC, mobile phone or any streaming device," they add. In this way, users who are interested in Shadowverse Champion's Battle You can pre-order it now at GAME and get free access to Crunchyroll for 30 days.
Shadowverse Champion's Battle offers role-playing and card battle elements. He made his debut on computers in 2016 and, since then, has managed to gain more than a million daily players; Japan being one of the main markets for this title. We remind you that on Nintendo Switch debuts next August 13.