Today begins a new month and with its arrival the selection of free games that subscription services and platforms such as PS Plus, Xbox Live Gold, Epic Games Store, Prime Gaming y Stadia Pro they offer to those people who keep their account active. Below you can find all the titles that you can add to the library during the month of May without paying a penny for them:
Free games with PS Plus in May 2021
PlayStation Spain has already announced which will be the free games that the subscribers of PS More they can get this month in PS4 and PS5. As is customary since the new console was released, there is an exclusive game for the machine next-gen Sony while the rest are valid for the two consoles. In any case, all these titles will be available at zero cost from May 4 to May 31:
Wreckfest

for PS5

Battlefield 5

for PS4 (available on PS5 via backward compatibility)

Stranded Deep

for PS4 (available on PS5 via backward compatibility)

Waves Out!

for PS4 (available on PS5 via backward compatibility)
In addition to these free games, there are more works that both subscribers and non-subscribers of PS Plus can claim at zero cost– Members of the online gaming program can continue to get the 20 works included in the PS Plus Collection for PS5, while those without an active subscription can take advantage of the promotion Play At Home 2021 to claim Horizon Zero Dawn in its Complete Edition until May 15 and keep it in your library forever.
Free games with Xbox Live Gold in May 2021
In the case of Xbox Live Gold, subscribers of the online gaming service will be able to enjoy a new selection of titles at zero cost in May for Xbox One y Xbox Series X/S. Anyone with this active membership will be able to access between this month and the next to claim the works available for free, including those who have a subscription to Xbox Game Pass Ultimate. These four sets will remain accessible in the library as long as the subscription remains active:
Armello Y Dungeons 3 They are Xbox One games that can be obtained for free both on that console and on Xbox Series X / S, Microsoft's next-generation machine. The other two, LEGO Batman Y Tropico 4, are Xbox 360 games that, in addition to that platform, can also be played on Xbox One and Xbox Series X / S thanks to the company's backward compatibility policy.
During the first half of May, in addition, one of the Gold Games from last month will continue to be available for free, Truck Racing Championship, which can be claimed by subscribers until the 15th of this month.
Epic Games Store: New Free PC Games Every Week
Epic Games Store May has started by giving a twist to its usual weekly promotion for which until now it was giving away free games for PC every Thursday at 5:00 p.m. (Spanish peninsular time). Instead of a complete game, what the company offers at zero cost during the first week of the month is an add-on: it is a content package for Idle Champions de Forgotten Realms, a two-dimensional strategy game set in the universe Dungeons & Dragons.
The Epic Champions of Renown pack It is valued at $ 100 and includes the following content:
Unlock these champions: Spurt (Slot 3), Krull (Slot 6), Black Viper (Slot 7), Hew Maan (Slot 8) y Nova V'Ger (Slot 11).
Spurt's Safes: 16 Spurt Gold Chests with 2 guaranteed shiny gear cards.
Krull Safes: 16 Krull Gold Chests with 2 guaranteed shiny equipment cards.
Black Viper Safes: 16 Black Viper Gold Chests with 2 guaranteed shiny gear cards.
Hew Maan Chests: 16 Hew Maan Gold Chests with 2 guaranteed shiny equipment cards.
Nova Safes: 16 Nova Gold Chests with 2 guaranteed shiny gear cards.
Two relatives: Baby Spurt e Iris the Beholder.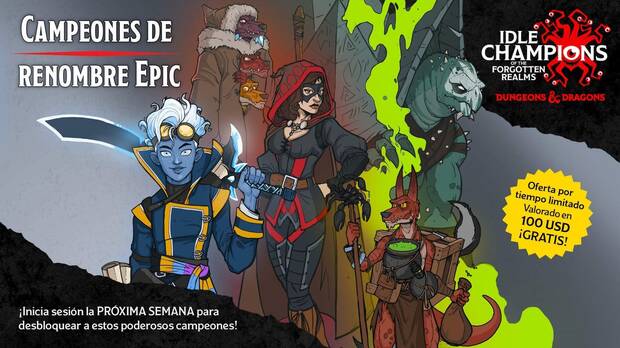 When this promotion ends, it will be replaced, this time yes, by a free PC game: it is about Pine, an independent game that takes us to an open world that imagine what civilization would be like if humans had never reached the top of the food chain, proposing an experience of survival, combat and management of our own tribe. Be available for free on the Epic Games Store from May 6 to 13.
New free games for Prime Gaming members in May
Prime Gaming, formerly known as Twitch Prime, is a subscription service included in Amazon Prime membership. Every month it is updated with new benefits for its members, such as additional content for both multiplayer and singleplayer, but also with free games for PC, which is the subject that concerns us right now.
The platform has not yet announced which titles to give to its subscribers during the month of May, but as of today a total of eight free games that have been added throughout the previous month. They are as follows:
Shortly this list will be updated with new free games that will make up Prime Gaming's May promotion. We will keep you informed when that happens.
Stadia Pro: Three New Free Games in May
Stadia Pro, the subscription game service of Google's cloud gaming platform, has already announced the titles that its members can add to the library for free and store them there for as long as the subscription is active. In total, there are three works that will be added to the service on Saturday May 1: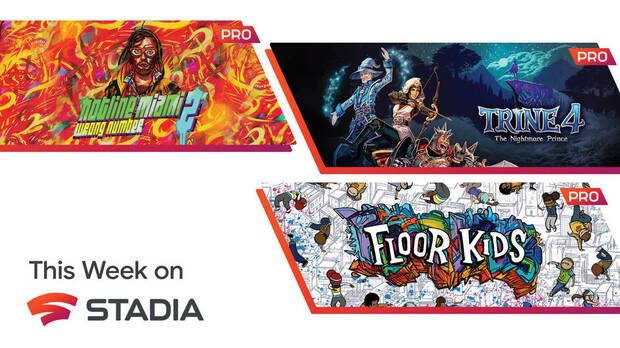 It should be remembered that Stadia and Stadia Pro are two different things: On the one hand, Stadia is the gaming platform in the cloud, a free access space from which you can play titles that we buy in your store (which by the way has just launched a search bar), or free games What Destiny 2 or the demo of Resident Evil 8: Village, which will open next May 2 to offer a free trial hour for one week.
On the other hand is Stadia Pro, the subscription service integrated within the cloud gaming platform. It is a paid membership (9.99 euros per month in Spain) that provides certain advantages, such as free access to a selection of games each month, streaming at 4K resolution and 5.1 sound, and discounts on the purchase of games. Those who have never tried this premium subscription can do it for free for a month here.