The weekend arrives and, with it, new free play trials and great deals on all platforms: PS5, Xbox Series X / S, PS4, Xbox One, PC and Nintendo Switch. Those who wish to spend these free days playing can do it well for free, or finding new titles at a reduced price in the multiple digital stores, as well as all the free games of April that are already available in the multiple subscription services. Below you can see some of these promotions available during this weekend from April 16 to 18.
Demo de Resident Evil 8: Village Sunday on PS4 and PS5
During the Resident Evil Showcase held last night, and whose summary in Spanish you can read here, a new demo from Resident Evil 8: Village. This is a free trial that, unlike the previous demo, is taken directly from the final game. This test will not be available for all platforms until next month, but PS4 and PS5 players will get early access this weekend.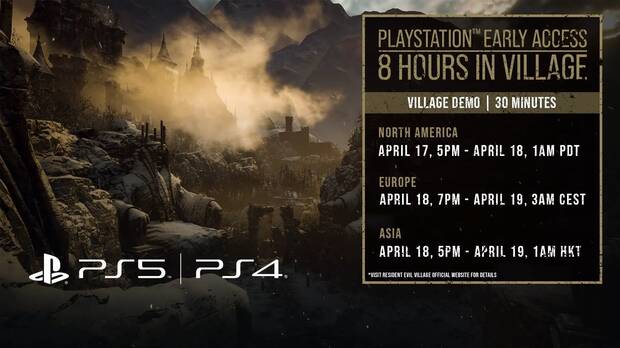 Specifically, the demo of Resident Evil 8: Village can be pre-downloaded now on PS4 and PS5, Although it cannot be tested until Sunday, April 18, from 7:00 p.m. (Spanish peninsular time) until 3:00 a.m. on April 19, that is, a margin of eight hours. When activated, the village part can be played for 30 minutes. Next week, from Sunday April 25 at 7:00 p.m., PS4 and PS5 users will be able to access the demo again to test another area, the castle area, also for half an hour.
From the rest of the platforms you will not be able to access the demo until May 2 at 02:00, and only for 24 hours. Of course, in this version we can play for 60 minutes both in the village and in the castle. Five days later, on May 7, Resident Evil 8: Village will be released in PS4, PS5, Xbox One, Xbox Series X, PC y Stadia.
New free trial at Xbox Live Gold Free Play Days
The players of Xbox One y Xbox Series X/S will also be able to enjoy a new free trial this weekend, or at least those who are subscribed to Xbox Live Gold. On this occasion, during the Free Play Days from April 15 to 18 you can download and play for free Kingdom Two Crowns, a peculiar independent title of management and exploration in two dimensions. Those who wish to try it can now download it in the digital store of the consoles, where they also they can buy it with up to 70% discount if they want to keep it forever.
It is no coincidence that Kingdom Two Crowns be the game of choice for this week's Xbox Live Gold Free Play Days: at the end of the month, specifically the 28th of April, will launch Dead Lands, the new DLC of this game edited by Raw Fury. It is an expansion that will take us to dark areas of the kingdom allowing us to control unique monarchs among which is Miriam, the protagonist of Bloodstained: Ritual of the Night.
Weekend deals on PS4, Xbox, Switch and PC
In addition to free games, this weekend there is a wide variety of offers in all digital stores of PS5, Xbox Series X / S, PS4, Xbox One, Nintendo Switch and PC. We have selected some of the most prominent discounts, you can see them all below:
PS4 Deals
Ofertas Xbox One
Doom Eternal

Deluxe Edition (includes expansions The Ancient Gods Part 1 and 2) 32,99

FIFA 21

27,99

Assassin's Creed Odyssey

(Gold Edition, all expansions) 29,99

South Park: The Fractured But Whole

14,99 (con Gold)

Bulletstorm

Full Clip Edition 9,24

Scott Pilgrim vs. The World : The Game Complete Edition

9,74 (con Gold)

Bud Spencer & Terence Hill Slaps And Beans

5,99

Battletoads

4,99

This War of Mine: The Little Ones

3,99 /li>
Ofertas Nintendo Switch
Doraemon Story of Seasons

12,49

Fight'N Rage

10,99

Dragon Ball Xenoverse 2

9,59 /li>

Super Dragon Ball Heroes:

World Mission 9,59

Golf Story

7,49

GREY

6,79

Moonlighter

6,24

Do Not Feed the Monkeys

4,54

Outlast:

Bundle of Terror 4,99

Duke Nukem 3D:

20th Anniversary World Tour 3,99
Ofertas Steam