During this weekend, the June 4-6, there are several offers, promotions and discounts that allow us play for free or at greatly reduced prices to different titles on the main digital distribution platforms of PC, Nintendo Switch, PS5, PS4, Xbox Series X/S Y Xbox One. There are, in addition to free games, demos, reduced and free versions of titles, and offers in different stores. We collect them below.
Tell Me Why, free the latest from the creators of Life is Strange
Tell Me Why is an interactive drama from DontNod Entertainment, known mostly for Life is Strange, published by Xbox Game Studios. The title is available for free Until July 1st both in PC (via Steam and the Microsoft Store) as in Xbox One (en la Microsoft Store).
The players will put themselves in the skin two twin brothers, Tyler and Alyson, who will return to the Alaskan town where they grew up. There they will have to face the ghosts of the past and clarify what happened years ago. To do this, they can use the power that both have to connect their mind and their memories, but sometimes what they remember differs.
Warhammer Underworlds free and steam
Warhammer Underworlds: Online it's a game of Player vs. Played strategyr set in the Age of Sigmar from the Games Workshop universe. The Steel Sky Productions production is very original because mix two genres: on the one hand, turn-based combat on hexagonal boards; and on the other, the construction of decks. You can download it for pc on Steam until June 10.
Players have to choose between different bands, each with their own style of combat, while little by little they go molding with the letters that they are getting. Although the new bands that appear are sold by DLC, all the cards that are added are free for all players.
Free Play Days en Xbox: mucho Warhammer
Subscribers to Xbox Live Gold y/o Xbox Game Pass Ultimate They can play for free until Monday June 7 at 8:59 a.m. Spanish peninsular time to three games of the Games Workshop saga: Warhammer 40.000: Inquisitor – Martyr, Warhammer: Chaosbane Y Warhammer 40.000: Mechanicus.
Inquisitor – Martyr it's a Accin RPG with a bloody aesthetic; players can choose between different classes and play solo or cooperatively; you can download it here. Chaosbane is a action adventure in isometric perspective that can be played in local cooperative and online; you can download it for Xbox One Y Xbox Series X/S. Finally, Mechanicus it's a game shift tactician with more than 50 missions, troops of different classes, upgrades and disciplines that offer a lot of tactical depth; you can download it here. In addition, the three of them are offer in its different editions.
Frostpunk free para PC and Epic Games Store
If you like to drink hard decisions and feel that you choose what you choose you are going to be guilty of the hardship or the death of hundreds of people, Frostpunk it is your game. The creators of the poignant This War of Mine, 11 bit studios, launched in 2018 this Frostpunk what is free and Epic Games Store until June 10 at 5:00 p.m.
Players will have to embody the leader of the last city in the world. A post-apocalyptic world, where the cold ravages everything and the energy resources to combat it are very limited. So, there will be create laws, shape society, develop new technologiessend expeditions outside the walls and carefully weigh each decision.
The free version of Naruto to Boruto: Shinobi Striker para PS4 y Xbox One
The three-dimensional fighting game Naruto to Boruto: Shinobi Striker created by Soliel and Bandai Namco has released a let it be free that you can download from the PlayStation Store for PS4 and from the Microsoft Store for Xbox One (you must download the Free Trial). Players can access a rotation of available fighters and fight with and against a squad of dozens of characters from the manganime.
Knockout City be free up to level 25
A few weeks ago we told you that Knockout City it could be tried for free until the end of May. Now, Electronic Arts and Velan Studios have announced that the game dodgeball multiplayer be available permanently free up to level 25 of the battle pass; once that level is reached, you will have to pay. You can download it for PC (Steam, Origin, Epic Games Store), PS4, Xbox One Y Nintendo Switch (Nintendo Switch Online is not required).
Free PS Plus, Xbox Live Gold and Twitch Prime games
Subscribers to Playstation plus They have until July 5 to download for free Star Wars: Squadrons Y Waves Out! for PlayStation 4, until August 2 to add to your library Virtua Fighter 5: Ultimate Showdown for PS4; and until July 5 to download Operation Tango and PlayStation 5.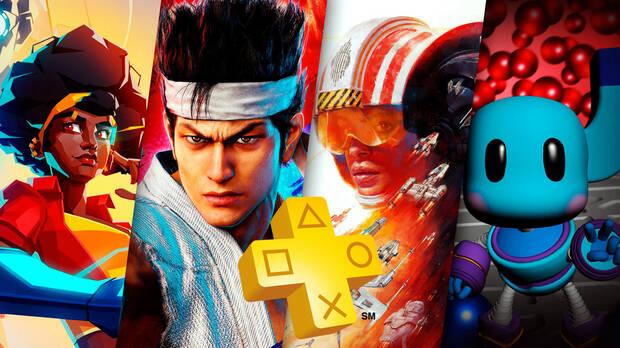 For their part, the subscribers of Xbox Live Gold can download The King's Bird until June 30 and NeoGeo Battle Coliseum Until 15 June. Finally, Amazon Prime subscribers will be able to download the following PC games from the Prime Gaming portal: Battlefield 4, BFF or Die, Newfound Courage, Lost in Harmony, Batman – The Telltale Series, Mugsters, Spitkiss, Frog Climbers, Mana Spark, Bombslinger Y Faraway.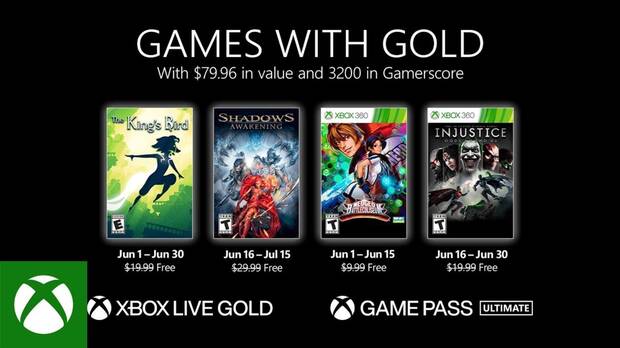 Ofertas en PS4, Xbox One, Nintendo Switch y PC
PS5 and PS4 deals
Yakuza: Like a Dragon: 41,99
Ghost of Tsushima: 39,89
The Last of Us Parte II: 30,09
Persona 5 Royal Deluxe Edition: 31,49
DOOM Eternal: 27,99
The Outer Worlds: 23,99
13 Sentinels: Aegis Rim: 26,99
Dreams: 19,99
Resident Evil 2 Remake: 15,99
Far Cry 5: 9,79
Ofertas Xbox Series X/S y Xbox One
Battlefield 1: 4,99
Battlefield 5: 5,99
Dragon Quest 11: 25,99
Warhammer Vermintide 2: 7,49
Call of Duty Black Ops Cold War (con Gold): 41,99
Call of Duty Black Ops Cold War Series X/S (con Gold): 48,74
Dragon Age Inqusition GOTY: 11,99
Dying Light: 20,09
Warhammer Chaosbane: 11,99
Mutation: 15,99
Ofertas Nintendo Switch
Bit.Trip Runner: 1,99
Child of Light: 5,99
Dicey Dungeons: 8,99
Just Dance 2020: 19,79
Monster Sanctuary: 13,39
Naruto Ultimate Ninja Storm Trilogy: 14,99
Overcooked! Special Edition: 4,99
Serial Cleaner: 2,24
Syberia 2: 1,49
The Swindle: 3,74
Ofertas Steam
Amnesia Rebirth: 12,49
Race trim: 3,99
Conan Exiles: 11,99
Dragon Quest 11 S: 25,99
Dying Light: 10,19
Heavy Rain: 9,95
Mark of the Ninja Remastered: 6,71
Starbound: 5,59
Wargroove: 6,79
XIII: 1,97