Perhaps it is common to think that the games included in Xbox Game Pass It is difficult for them to sell outside of that subscription service: why would I buy a 70 euro game when I can subscribe for much less and incidentally play many more titles in the catalog? However, last week's sales on Steam they show us how wrong people are who think that way.
According to SteamDB data, during the 26th week of 2021, which ended on Sunday, July 4, the best-selling game on Steam was Sea of Thieves, the pirate open world game from Rare. The thing is not there, if you take a look at the complete list you will see that at least four of last week's top ten best-selling games are included in the subscription de Xbox Game Pass: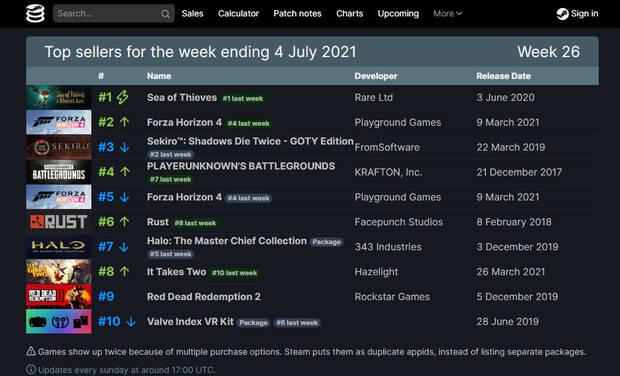 In addition to Sea of Thieves, in the list we also see Forza Horizon 4 -which appears twice because SteamDB independently records the IDs of the games, bundles and other purchase options-, Playerunknown's Battleground Y Halo: The Master Chief Collection, all included in Xbox Game Pass and, for the most part, distributed by Xbox itself. We could also include Red Dead Redemption 2 on this list, because even though the story mode is not in the Game Pass catalog, it is Red Dead Online, your standalone multiplayer.
Of course, it must be taken into account that these sales have been made within the framework of the Steam Summer Sales, a promotion that will continue to be active. Until the 8th of July at 7:00 p.m. (Spanish peninsular time) and in which the price of all the games that appear in this ranking has been reduced.
Sea of ​​Thieves continues to add new players
As we said before, the top 10 of last week's best-selling games on Steam is led by Sea of Thieves, you just received the free update A pirate's life with the cameo of Captain Jack Sparrow and with references to other great pirate works such as Monkey Island. Rare's game continues to add new users to its already high number of 20 million players, which super in March of this year.