Forza Horizon 5 It is considered by the jury of the E3 2021 Awards as the most anticipated game of all of this last edition. The game of PlayGround wanted to be part of the Los Angeles appointment showing a new advance that confirmed some of his main features: this installment will take us to visit Mexico, having different game modes and a climate whose effects will have consequences for our careers. Mike Brown, lead designer of FH5, wanted to share more details about the game: his Expeditions, the Horizon Open and Horizon Arcade.
Forza Horizon 5: A tour of Mexico with the Expeditions
In statements collected by Eurogamer, the main designer of the game, Mike Brown, wanted to address the information on the new game modes and the old modes that have been renewed for this fifth installment. For example, The Eliminator and Super 7 modalities will be back, while the game will have a series of tools that will allow us to design and create our own races.
In terms of content, Brown anticipates the arrival of Expeditions"They're kind of … I'll call it the climax of the campaign," he begins by explaining. We will have the opportunity to participate in the Expeditions, which will allow us "go out and explore a new area of ​​the world that you probably haven't seen yet. "In this sense, they will be directed by a character that could be seen in the game's presentation: Ramiro or Rami." He's Mexican. He loves Mexico and acts as a kind of tourist guide, "says Brown." He is really excited about the arrival of the Horizon Festival in Mexico and it's going to show us all the amazing things there is to see".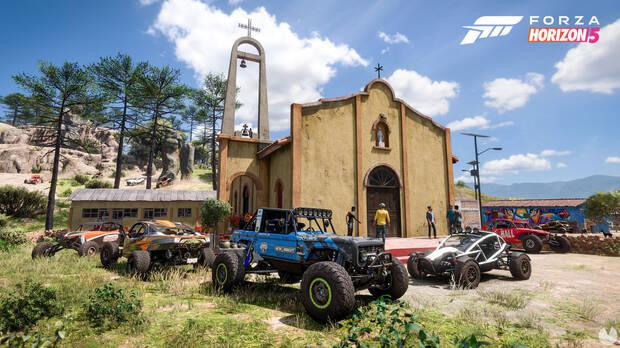 Expeditions will allow us to visit new areas of the world that we have not seen
In this way, Expeditions are "selected experiences" which includes scenarios with tropical storms or they will challenge us to climb an active volcano. "They give us the opportunity to show off a lot of the really exciting things the game has to offer in a guided experience," continues Brown. "A lot of those things can and will happen in free mode naturally, while you explore, but this offers a more careful way of doing it. At the end of each expedition, you open a new Horizon Festival site, and that opens up a lot of new races. "
Horizon Open: Tweaking Multiplayer
From PlayGround they have wanted the multiplayer aspect of Forza Horizon 5 sea more inclusive and accessible for users that the previous one delivers. "Forza Horizon 4 made winning very important. It made people really want to win and get really mad when they don't, "explains Brown." So we're trying to address that balance. Winning is obviously still the goal and it is still what you want to do. But it is not intended to be everything. We are trying to make an experience that is more welcoming, fun and engaging without, hopefully, some of the frustrations people found in Forza Horizon 4".
Horizon Arcade: A change for Forzathon Live
In this mode, players will discover public events spanning 12 modes that will be available at all times in the open world. We will no longer compete in just one game mode every hour. "You can drive to the area to participate, there are no loading screens, no menus or anything. Instead of the only game mode we had in Forzathon Live, there are now 12 different game modes as well," he notes. "They are all meant to be fun little minigames, and they're all collaborative too"In this sense, it is about the players working as a team:" It is not just about seeing who is the best driver. "
We remind you that Forza Horizon 5 be available on November 9 both in PC as on Xbox One and Xbox Series X / S. "The fifth installment of the open world car game promises to be the most ambitious in the series," we wrote in our advance.