Fortnite: Battle Royale has already received one more week a new update as part of its current Season 6: Instincts. Since this morning of Tuesday, May 25, 2021, Epic Games releases version 16.50 which includes some novelties juicy and as always brings fixes and corrections to all platforms on which the game is available. Below we summarize the details most relevant and the changes and news that are included.
v16.50 brings:

🔓 A fan favorite comes back out of the vault

🏝 Survey and oversee larger spaces in Creative

🛍 Spend your Bars BIG in the next Wild Week starting June 3!— Fortnite Status (@FortniteStatus) May 24, 2021
Fortnite 16.50: the playable news
Fortnite version 16.50 includes the following news announced by their managers through the Fortnite Status Twitter:
A favorite weapon come back from the chamber.
New content and larger spaces for Creative mode.
The next Wild Week will be related to spend our bars (start next June 3).
Creative mode gets the NBA Crossover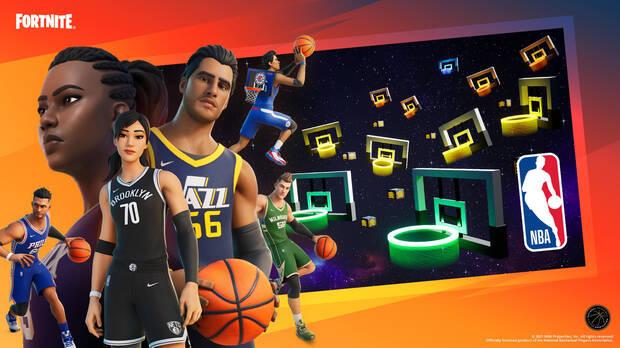 The NBA in Fortnite: The Crossover, arrived last week with the addition of skins of the league basketball team. Now, this Tuesday, May 25, the game also receives in its Creative mode a new welcome center with NBA themes as well as other related news.
Different areas of Creative mode: set with basketball themes that you can explore.
Lots of videos: with the best moments of the NBA Playoffs season 2021.
The Chaotic Court Crossover: an MTL exhibitor whose theme revolves around the NBA. To play you can enter the code 1898-7178-3313.
You can complete the mission of The Crossover: to earn XP by completing each challenge and unlocking a basketball banner as a reward.
Fixes and fixes in Patch 16.50
This update brings some changes and general fixes for the game, as always we can extract them from the Trello from Epic and are as follows:
Changes and solutions
The last item in inventory is no longer skipped when moving left using a controller.
Cape-type backpacks can now be equipped.
Recent friends added to our list no longer appear by mistake as offline.
In Creative, games can now start even though a player is inside a phone booth.
Bug fixes
Player-created structures appear at a greatly reduced level when playing on PC with Performance mode enabled (will be addressed with this patch)
The ocean does not appear on the minimap (will be solved with this patch)
The list of Recent Creative Islands is not updated (will be addressed with this patch).
All cosmetics and skins from patch 16.50
Naturally this version 16.50 of Fortnite also brings us a Lots of new cosmetics and skins that dataminers are responsible for collecting. Over the next few days we can dispose of them in the game store if we want to acquire them with turkey. Here below we show you the news in this regard:
All the new cosmetics! (via @FunGamesLeaks) pic.twitter.com/8HqlJmLeME— HYPEX (@HYPEX) May 25, 2021
All Cosmetics updated/added for the item shop in v16.50 pic.twitter.com/qXTQgd6LKS— iFireMonkey (@iFireMonkey) May 25, 2021
New Emotes! pic.twitter.com/jYmcp8WRS4— HYPEX (@HYPEX) May 25, 2021
Remember you can visit our complete guide to know the best tips and tricks and overcome all the challenges of the season with ease. Fortnite is a Battle Royale that is free for PC, PS4, Xbox One, Nintendo Switch and devices Android e iOS, you can read our review.