After the end of Season 5 a few weeks ago, Fortnite: Battle Royale is already fully in the new Season 6: Instincts and today, Tuesday, March 30 From 2021, Epic Games has released the first patch of this season; version 16.10 includes some novelties juicy and as always bring fixes and corrections to all platforms on which the game is available. Below we summarize the details most relevant and all the changes and news that are included in the game.
The v16.10 brings with it:

🥚A new predator stalking the island
Button settings and crafting!
⚡️Creative power-ups are now compatible with Team, Class and all combinations
🏴‍☠️New season of Save the World on April 3 at 8 pm ET (2/4) – Fortnite_ES (@Fortnite_ES) March 29, 2021
Fortnite 16.10: the playable news
Fortnite version 16.10 includes the following news announced by those responsible:
A new predator stalking the island.
Button and crafting settings.
Boosters in Creative are now compatible with Team, Class, and all combinations.
New season of Save the World on April 3 at 8 pm ET.
As a reminder, Epic has reported that this patch is larger than usual on PC and furthermore, the final event of Crisis Zero has unavailable after the downtime of v16.10. On the other hand, this week the company is experimenting with the circles of the storm moving in non-competitive modes during the last two zones.
New Spring Breakout Event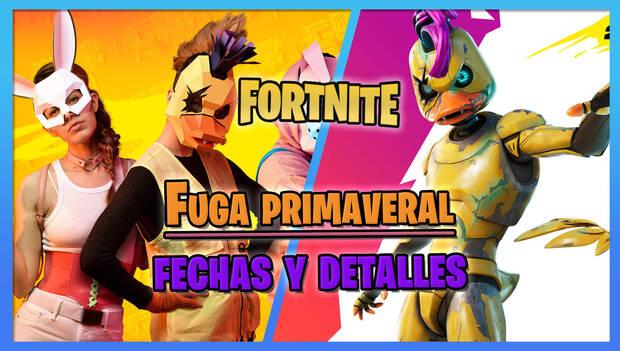 As of March 30, 2021 will also be available in Fortnite on big spring breakout event (You can consult in detail all the news from our other news). New Legendary Quests, rewards, a Competitive Cup of two, and much more will be added in the coming days.
Fixes and fixes in Patch 16.10
This update brings some changes and general fixes for the game, as always we can extract them from the Trello from Epic and are as follows:
Balance changes
Reduced primitive shotgun rate of fire.
Adjustments on the improvised shotgun.
Material costs now increase based on the rarity of the weapon.
Animal bones and mechanical parts can appear as a floor button.
Bug fixes
An error that caused failures to activate the "Ready" state when playing in split screen.
An error that caused that when completing legendary missions the notification of experience indicated the double of the due one.
A bug that on Shark Island caused the Jonesy anomaly not to appear on the location.
An error related to disabling inventory commands.
Various bugs that stop progress with character missions.
A glitch that prevents dividing resources into stacks in half.
Fortnite Chapter 2 Season 5 Legacies will be activated again on the Career tab in the next update.
All cosmetics and skins from patch 16.10
Naturally this version 16.10 of Fortnite also brings us a Lots of new cosmetics and skins that the dataminers have already collected. Over the next few days we can dispose of them in the game store if we want to acquire them with turkey. Here below we show you the news in this regard:
v16.10 cosmetics [ACTUALLY COMPLETE] pic.twitter.com/wc6avrZbRl— Lucas7yoshi – Fortnite Leaks (@Lucas7yoshi) March 30, 2021
All new Bundles! pic.twitter.com/VYuw01I2Of— HYPEX (@HYPEX) March 30, 2021
New Emotes! (fill vid in a bit) pic.twitter.com/dvdjW5kKfD— HYPEX (@HYPEX) March 30, 2021
Remember you can visit our complete guide to know the best tips and tricks and overcome all the challenges of the season with ease. Fortnite is a Battle Royale that is free for PC, PS4, Xbox One, Nintendo Switch and devices Android e iOS, you can read our review.