Microsoft has announced the games that will come to Xbox Game Pass on all platforms (Xbox Series X / S, Xbox One, PC and Xbox Cloud Gaming) in the remaining days of July for all. Among them is the version for the cloud of Battlefield 5, available today just like the RPG Crystals; the long-awaited Xbox Series version of Microsoft Flight Simulator; and classic brand titles like Blinx: The Time Sweeper Y Crimson Skies: High Road to Revenge.
Battlefield 5

– 20/07 (Cloud Gaming)

Crystals

– 20/07 (PC, Xbox, Cloud Gaming)

Atomicrops

– 22/07 (PC, Xbox, Cloud Gaming)

Raji:

An Ancient Epic – 22/07 (PC, Xbox, Cloud Gaming)

Last Stop

– 22/07 (PC, Xbox, Cloud Gaming)

Blinx:

The Time Sweeper – 26/07 (Xbox, Cloud Gaming)

Crimson Skies:

High Road to Revenge -26/07 (Xbox, Cloud Gaming)

Microsoft Flight Simulator

– 27/07 (Xbox Series X/S)

Lethal LEague Blaze

– 29/07 (PC, Xbox, Cloud Gaming)

omno

– 29/07 (PC, Xbox, Cloud Gaming)

Project Wingman

– 29/07 (PC)

The Ascent

– 29/07 (PC, Xbox, Cloud Gaming)
The fifth numbered installment of Battlefield no introduction required; Available on EA Play (included in Xbox Game Pass Ultimate and Xbox Game Pass for PC), now also expands to the cloud. Crystals is an RPG of Colombian origin that stands out for its particular artistic section and for displaying several time lines simultaneously on the screen.
Atomicrops is a farm simulator mixed with bullet hell where it will be necessary to protect the crops of a post-apocalyptic world from the mutants that will attack it. Raji: An Ancient Epic is an action adventure where the protagonist must find her brother, Golu, to end a demonic war. Last Stop is an interactive drama from the creators of Virgnia with three intertwined stories that takes place in modern day London.
Blinx: The Time Sweeper It's a lauded 3D platformer from the first Xbox with lots of action, wacky worlds, and charismatic characters; while Crimson Skies: High Road to Revenge, very well received by the critics of the moment, is another Xbox game that takes us to pilot fighter jets in the 1930s on a Hollywood adventure.
Less presentation needed than expected Microsoft Flight Simulator for Xbox Series, which adapts the airplane simulator released for PC in August 2020 to consoles with various playable and accessibility novelties. Lethal League Blaze is a two-dimensional fighting game with a very particular animated aesthetic that gives a twist to its genre.
omno is an adventure where a lost civilization is discovered through puzzles, secrets and obstacles. Project Wingman It is a title of aerial battles with touches 'roguelike' and a very remarkable audiovisual section. Finally, The Ascent it's a shooter RPG set cyberpunk that can be played cooperatively.
Also, the next July 31 will leave the service the following games, which can be purchased with a 20% discount until that day:
It Lurks Below (PC, Xbox)
The Touryst (PC, Xbox, Cloud Gaming)
UnderMine (PC, Xbox, Cloud Gaming)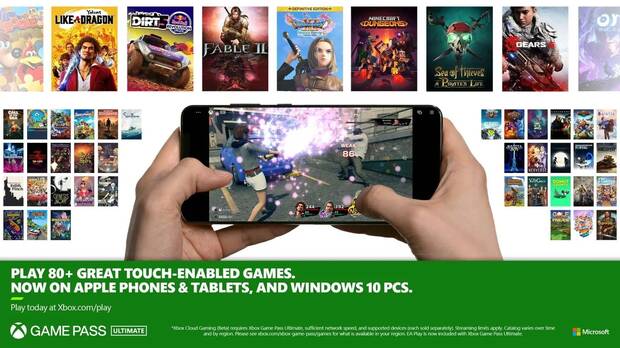 14 more games add touch controls for Xbox Cloud Gaming
Subscribers to Xbox Game Pass Ultimate You can play the following games in the Android app or through the browser on iPhone, iPad and Windows 10 computers, taking advantage of the touch controls, a functionality that more than 80 catalog titles take advantage of: