It may seem like an exaggeration, but it is exactly what has happened: the digital version of Final Fantasy XIV has come to run out, although it is available again as usual. The Square Enix MMORPG, which invites us to immerse ourselves in this world of fantasy at the hands of our own character and other players, is enjoying a golden rebirth. Although it debuted more than 10 years ago, not only has it broken a record of simultaneous users on Steam but also the reservations of its next expansin Endwalker are well above those registered for Shadowbringers. This next content will not arrive until November, but it seems that players are willing to enjoy what the title currently offers in the meantime.
Final Fantasy XIV runs out at the Square Enix store
As they echo from Kotaku, players who wanted to join the fever of Final Fantasy XIV they were running into serious difficulties. When they were trying to buy a digital copy of the game from the publisher's store, they discovered that Square Enix was sending them to a waiting list. Players on Reddit and ResetEra have found this to happen with Final Fantasy XIV Complete Edition, a pack that includes the base game along with its expansions.
At that moment, Unable to purchase a PC or PS4 download code for the game from the Square Enix store. As we said, when trying to purchase this copy, the studio offered players a "waiting list" button instead of the typical "add to cart" option. The situation seems to have been resolved now. Anyway, players interested in Final Fantasy XIV Complete Edition You can also buy it through Steam and PlayStation Store. Its price is 54.99.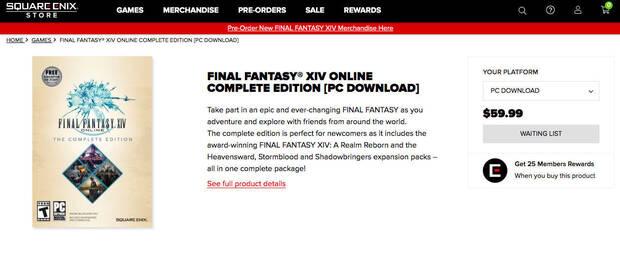 Players entered a waiting list
Although it sounds strange, it seems that the digital editions of the games "may sell out" too, after all. It's not that Square Enix runs out of codes to sell on itself, because that's infinite, but it's possible that the company had to temporarily slow down player entry to ensure server performance. As we said, the title is enjoying a flood of users in recent days.
However, it is clear that Square Enix was not going to close the doors to players for long. In a press release sent out this morning, the company has indicated that they are living "the largest free login campaign" before the arrival of the expansion Endwalker, which debuts this fall for PC, Mac and PS4 (the PS5 version will arrive in April). On the occasion of this boom, Square Enix has decided "lift" the subscription fee for 14 days for returning players. Offer ends August 23. We remind you that FF14 also has a free trial up to level 60, which offers up to the expansion Heavenward.