Since Selecta Play, the videogame division of the famous Spanish distributor Selecta Vision, remember that the collection Fighting Legends is now available for PlayStation 4. This compilation is responsible for offering players the great fighting games of SNK, loaded with nostalgia and action. Players can purchase two editions: one collector A4 that offers extra content, and an edition Digipack featuring three of SNK's most nostalgic games. We tell you all below its details and contents.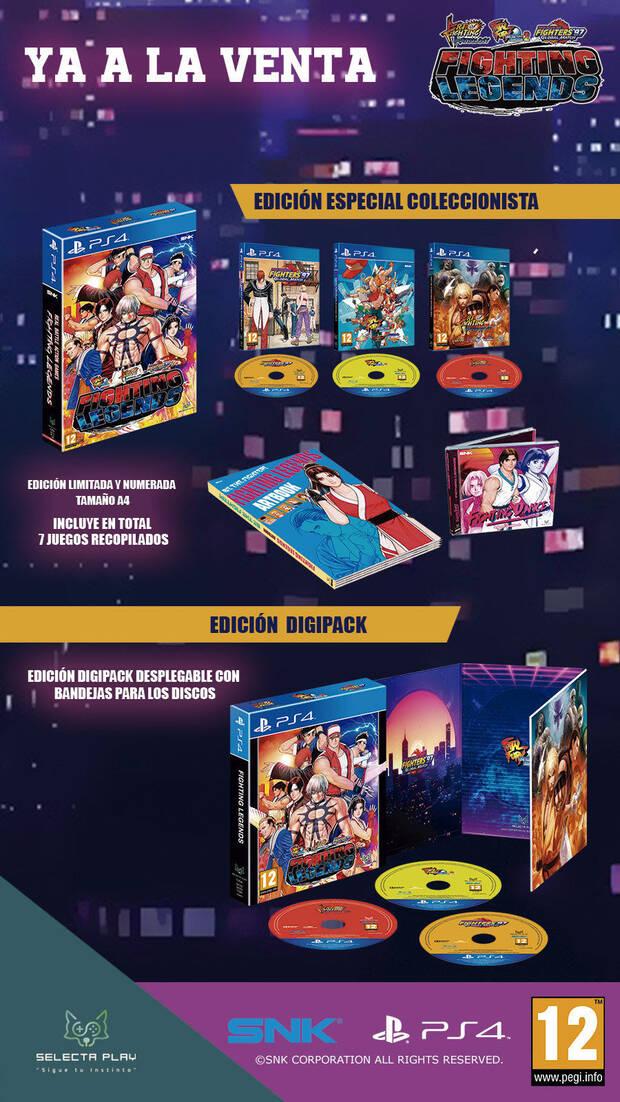 Fighting Legends, the jewels of SNK
"This collection includes SNK's most iconic fighting games, the company that revolutionized the arcade industry in the 1990s with its powerful Neo Geo and MVS (Multi Video System), which continue to be popular today. Its spectacular and addictive fighting games, full of super attacks and dangerous and colorful opponents, represented the pinnacle of 2D gaming systems and the turning point between retro and contemporary games"says the official description of this compilation.
El pack Fighting Legends by SNK includes the 3 main sagas of Neo Geo that "marked a before and after" in the history of fighting video games. In this way, the three discs of the compilation offer the following:
DISCO 1: ART OF FIGHTING ANTHOLOGY
ART OF FIGHTING ANTHOLOGY contiene la triloga ART OF FIGHTING 1, ART OF FIGHTING 2 y ART OF FIGHTING 3.
These three titles helped define fighting games: numerous mechanics introduced in this series became foundations of the genre. These games include taunts, character introductions, and super moves too!
Plot: ART OF FIGHTING 1 and ART OF FIGHTING 2 focus first on the adventures of the Sakazaki family in South Town, in order to rescue Yuri Sakazaki in the first game, or to take down the corrupt police captain Geese Howard in the second. As for ART OF FIGHTING 3, it is heading towards a completely different destination: focuses on Robert Garcia, a friend of the Sakazaki, who travels to Mexico to find a childhood friend.
DISCO 2: FATAL FURY BATTLE ARCHIVES V2
FATAL FURY BATTLE ARCHIVES V2 contiene la triloga REAL BOUT FATAL FURY, REAL BOUT FATAL FURY SPECIAL y REAL BOUT FATAL FURY 2.
REAL BOUT FATAL FURY is the only title in the 'Fatal Fury' saga in which it is allowed to expel characters from the ring to make them lose in a comical way, which allows unexpected results. This game contains 16 playable characters, and concludes the story that began with the first 'FATAL FURY'.
In REAL BOUT FATAL FURY 2, the system has been slightly modified so that the background is used primarily to dodge attacks and launch opponents. This title contains three new characters: Li Xiangfei, Rick Strown and Alfred. The first two are completely new characters, while Alfred is a secret boss.
In 'REAL BOUT FATAL FURY SPECIAL', Tung Fue Rue, Cheng Sinzan and Laurence Blood return, and Geese unexpectedly reappears as 'Nightmare Geese'.
DISCO 3: THE KING OF FIGHTERS '97 GLOBAL MATCH
The final chapter of the King Of Fighters Orochi saga, one of the most iconic installments of this franchise, thanks to which King Of Fighters became one of the most beloved fighting games in the world.
Includes 35 playable characters in total, 6 of them secret characters from the NEOGEO console version, available from the beginning!
Includes ADVANCED and EXTRA modes for an even more rewarding gaming experience.
It also includes brand new background music and galley menus!