Fall Guys: Ultimate Knockout, the battle royale of Mediatonic and Devolver Digital, today premiered its fourth season, a new update with a retro-futuristic look in the purest eighties style that brings all kinds of new features to this fun online multiplayer: new rounds, trials, outfits, and even a new type of currency that will make it easier for us to get new content for our bean without having to be the first.
Beyond the new costumes of "Astronauts, Aliens and Other Strange Retro-Futuristic Beans of the Eighties", one of the main novelties of this new season is that it includes seven new rounds to those that were already available. They are as follows:
Skyline Stumble: Our new 60-player torment comes with a good selection of futuristic obstacles, including low-gravity zones, force fields, and lasers!
Hoverboard Heroes: Set sail and sail through slimy seas, dive and stumble over dangerous obstacles. Resist as you can the chaos that surrounds you until you reach the finish line or fall eliminated!
Basketfall: Team up to score, but with zero gravity! This is Fall Guys in the future, so get ready for some dumbest basketball.
Short Circuit: A new type of round based on racing that will cause many to fall lap after lap, in a messy tumult that defies gravity.
Power Trip: He stumbles while dancing too! Catch up on futuristic dancing and power up the luminous floor tiles in a battery-powered battle to dominate the disco.
Big Shots: Have you ever wondered what it would be like to be on a seesaw while stars, magnets, and other objects are thrown at you? Well now you will.
Roll On: It's Roll Out but on the run ?! In this now classic themed round, 60 players race to the finish line on a series of unstable rotating drums. Do not fall!
New team game mode and new currency type
In addition, a new game mode, Squads Mode, which allows us to form groups of up to four players and compete cooperatively. If any of the components wins the final round, all of their teammates will win as well. Along with this mode have been added two new types of round: Squad Race, in which you have to score points for your team reaching the goal, and Squads Survival, in which you have to do the same but fleeing the mud.
Another important novelty is that a nNew type of currency: Crown Shards. We can get these crown pieces in challenges and games to redeem 60 of them for a Crown and get them without having to be the first of the game, as was necessary until now. Have been added Daily Challenges in which precisely the award is both Fame and Crown Fragments.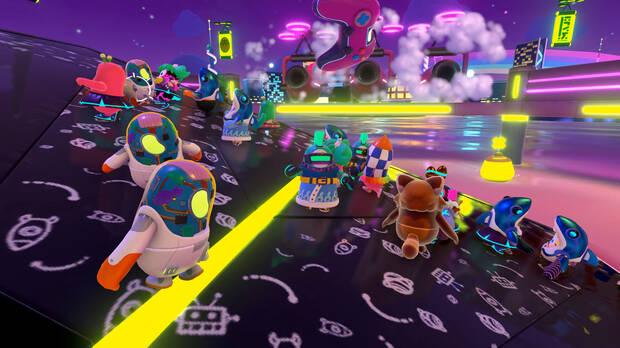 Fall Guys: Ultimate Knockout is available in PS4 and PC. Coming soon this year, it will also have a version for Nintendo Switch and in summer it will be released on Xbox Series X / S and Xbox One.