One month ago Electronic Arts y Codemasters presented F1 2021, the first installment of racing simulation to be released after the acquisition agreement between the two companies. Specifically this title Coming to PS5, Xbox Series X / S, PS4, Xbox One, and PC July 16, just in two months, so today more information has been given showing its cover and details of the Deluxe edition.
The official cover of F1 2021 starring three pilots, Lewis Hamilton, Max Verstappen and Charles Leclerc: "The three drivers have been deserving of starring on the cover of the video game, with Hamilton aiming for an eighth World Championship to break records, while Verstappen does everything possible to stop him and Leclerc flies high in the rejuvenated Ferrari team", you can read in the Electronic Arts press release.
Seven iconic pilots included in the Deluxe Edition
Along with the main image of this installment, Electronic Arts and Codemasters have also revealed some of the content of the Deluxe edition of F1 2021 (84.99 euros in consoles), specifically seven iconic pilots that will be part of the digital extras so that those who purchase this version can use it in My Computer mode. They are as follows:
Michael Schumacher (94): 91 victories in 308 races, and seven times World Champion
Ayrton Senna (94): 41 wins, 65 pole positions, and three world championships
Alain Prost (93): 51 wins, 41 fastest laps, and four world championships
Jenson Button (90): Won the World Championship in 2009 in the first season of Brawn GP
Nico Rosberg (89): Won nine of the 21 races he played during the season in which he won the championship in 2016
David Coulthard (87): Won 13 races, 62 podiums, and runner-up in the world in 2001
Felipe Massa (86): 11 wins, 41 podiums and runner-up of the 2008 season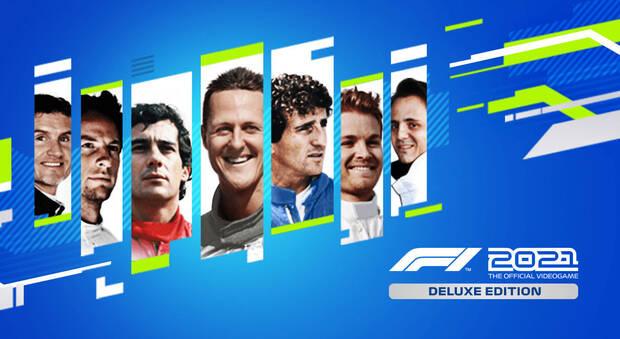 According to those responsible for F1 2021, This three-tier list has been "carefully crafted" so that players can select one of these iconic drivers from the start of My Team mode: "Includes some of the best drivers who have been to the top of motorsports. Players can also take a look at the statistics of these drivers before the 2021 driver statistics are released soon, "they explain.