F1 2021 It is the new installment of the Codemasters sports driving simulation saga that this year will arrive supported by Electronic Arts after the acquisition of the studio responsible for its development. One of the great novelties of this installment is Braking Point, a story mode of which today its managers have presented the first details.
In addition to their first images, the new details of Braking Point include a description of their main characters: the story mode of F1 2021 will have as protagonist Aiden Jackson, a young and promising star who makes his debut in the first division of this sport after having excelled in the F2, although he does not finish finding his place in the new league. Along with the protagonist will be Casper Akkerman, veteran of the competition and teammate of Aiden, Zoe Akkerman, the wife of this pilot, Devon Butler, antagonist of this story, Brian Doyle, responsible for the management of the protagonist's team.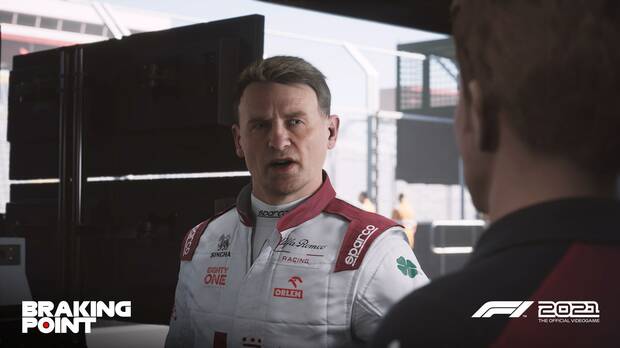 An exciting story mode that brings narrative to F1 2021
Braking Point It is a novelty that gives the game a narrative weight that adds to its traditional modes of competition and management. Lee Mather, Codemasters Franchise Director, wanted to delve into the essence of this way when the game was presented last April: "It is an exciting innovation that has been in the works for years. We are proud to expand the gaming experience and allow players to experience the ups and downs of life in the world. Formula 1, both on and off the track. Braking Point transforms the video game and puts players at the center of the greatest racing spectacle on the planet. "
F1 2021 will launch the July 16th on PS5, Xbox Series X / S (with improvements in two new generation graphic modes), PS4, Xbox One and PC at a price of 69.99 in Spain for its standard edition and 84.99 for the Digital Deluxe edition on consoles. On Vandal We have already been able to test it and we will tell you what we found in our impressions.
Below you can see the guys with the first images of Braking Point.