This July 16 hits stores F1 2021, this year's edition of the Driving Simulator from Codemasters and Electronic Arts, which recently bought the studio responsible for Dirt. Along with the versions of PS5, Xbox Series X (these with modes at 4K and 60 fps; and 2K at 120 fps), Xbox Series S, PS4 and Xbox One, a PC edition is also launched that takes advantage of the technologies of Nvidia RTX graphics cards: the Ray Tracing and especially the Nvidia DLSS 2.0, which increases performance by up to 65% at 4K resolutions.
The previous edition, F1 2020, introduced Nvidia DLSS, but in its earlier and less polished version. This time, this machine learning and artificial intelligence system has been polished to the point any RTX graphics can be played at more than 60 frames per second at 2K; and all those who have a RTX 3070 or higher can play 60 fps y 4K with the graphics at maximum and the ray tracing activated.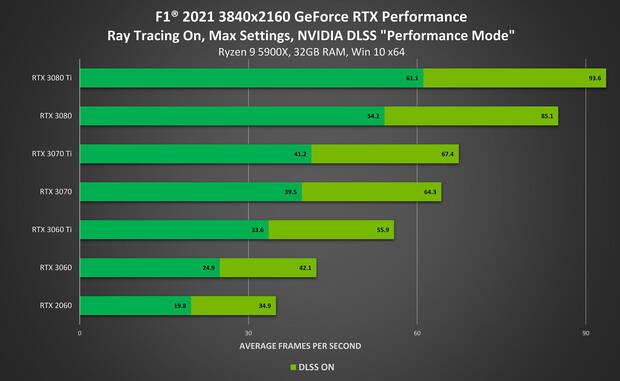 The data provided by Nvidia (with a Ryzen 9 5900X processor and 32 GB of RAM) shows that an RTX 3070 with everything to the maximum, with ray tracing and DLSS in performance mode goes from the average 41.2 fps that it has with the resolution native at 67.4. Even in the low resolutions, like 1080p, you notice a considerable increase: the RTX 2060 It has an average of 62.2 FPS with ray tracing and maximum graphics, but activating the DLSS in quality mode increases it up to 81,7 fps.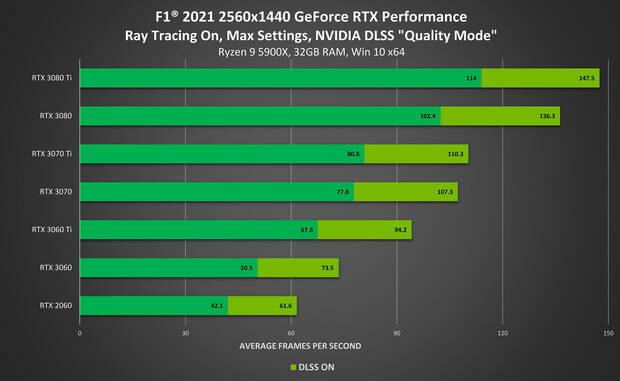 Regarding ray tracing, from Nvidia they assure that they have collaborated with Codemasters for it. On the one hand, there are realistic reflections on cars, windows, water surfaces and other metallic elements; on the other, pre-existing shadows are enhanced with more detail and shadows are added to small elements that do not have ray tracing without ray tracing.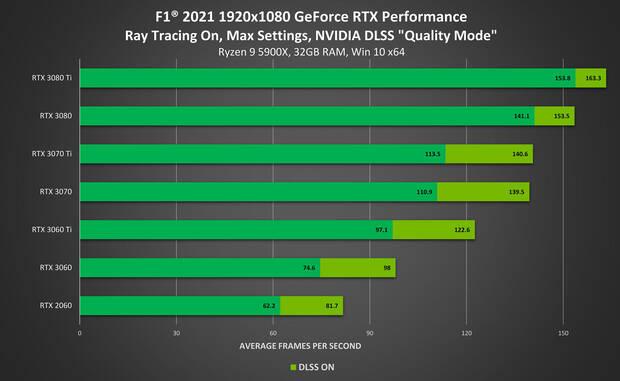 The F1 full ms
"F1 2021 It is the most complete F1 game we have had to date with several playable level improvements with respect to last year both on the track and within its game modes and also adding new content in the form of Braking Point, un modo historia", we told them in our analysis that you can read here.