During the Epic Games trial against Apple there is an incessant internal document leak that both companies use during the process, but which are known before thanks to their appearance in legal portals. The last report that has been made public corresponds to a supposed offer that Epic Games would have made to Sony with the intention of ensure the exclusivity of the first-party from PlayStation to PC.
This accidentally published document states that Epic Games made an offer to Sony for, at a minimum, $ 200 million for four to six first-party. The intention was to bring your exclusive games to the Epic Games Store in such a way that they could not be obtained on any other PC digital distribution platform, such as Steam. The document does not give many details about how these negotiations have progressed or when they started, only that they are "Waiting answer" from Sony.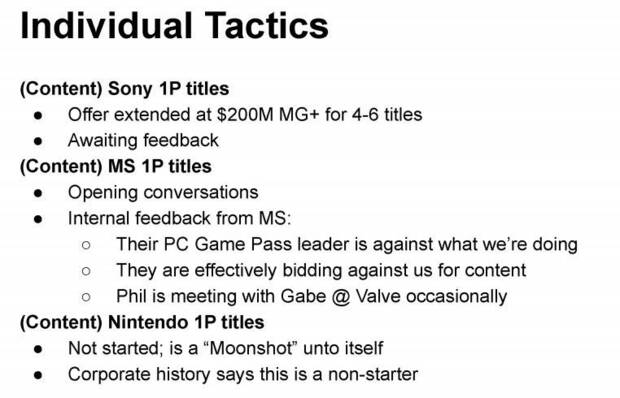 Epic Games also took an interest in Microsoft and Nintendo exclusives
As you can see, Epic Games also took an interest in Microsoft and Nintendo exclusivesIn the first case, the Xbox company showed little interest in bringing their first-party to the Epic Games Store exclusively because it goes against their policy, which is primarily focused on Xbox Game Pass para PC, so they would not be interested in offering games that can only be found on the Epic Games platform. With Nintendo they did not even get into conversations because they know that it is a company with no interest in publishing their games on other platforms.
Going back to the negotiations with Sony, little information can be extracted from this small section of the confidential document. It is not clear if those 200 million are for four or six games in general or specifically, nor is it specified if it is for each of the games or for all of them in a package. We also do not know the date on which the talks began or if they have been successful, although it is true that Sony-edited games are now available on the Epic Games Store: ReadySet Heroes Y Predator: Hunting Grounds are exclusive to this platform, although little known to invest so much money, while Horizon Zero Dawn Y Days Gone are (or be, in the second case) available both on the Epic Games Store and on Steam.
It should be remembered that last month Sony invested $ 200 million in Epic Games, an amount that was added to the 250 million that he invested in July 2020.