El Paso, Elsewhere is the new title of action and third person shooter created by the development studio Strange Scaffold, which aims to be available and PC through Steam next 2022, both in Spain and around the world. The game's formula has made us think about the saga Max Payne: players will have to accompany the protagonist through various levels shooting anything that moves. In this case, vampires and other supernatural creatures. We leave you next with your ad trailer:
El Paso, Elsewhere: Shooting, vampires and action
"El Paso, Elsewhere it's a supernatural neo-noir shooter on third person"is the description offered by the team of developers about the project. In this way, we will have to make our way through werewolves, fallen angels, vampires and other cursed creatures "in a vivid love letter to action classics." The action of the game will take place in a motel whose reality will change as we explore its different plants.
"Save a the victims of Draculae, the lady of vampires. Destroy the villain you loved, even if it means your own death ", we can read in his synopsis." Somewhere in El Paso (Texas), a three-story motel now has another 46 … all underground. So yes. It's going to be crazy. "It seems that players will have to be prepared for anything to happen before their eyes, as they jump into it. explore the different corners of this motel.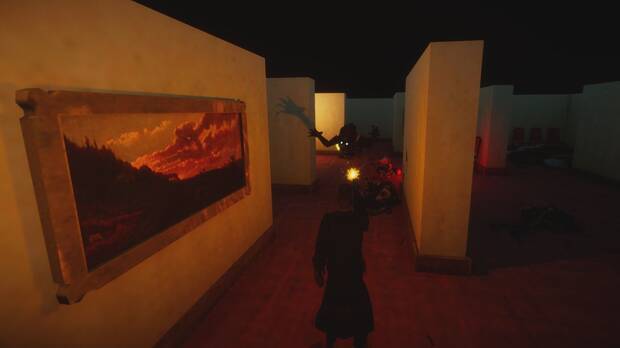 "A vivid love letter to action classics"
Players take on the role of a man whose mission is to destroy the woman he loved, who turns out to be a vampire. To get to it, we will have to walk through the 46 floors of this secluded hotel, riddled with werewolves and all kinds of supernatural creatures. In our arsenal we will find stakes, shotguns and molotov cocktails, which will allow us to throw a sacred blue flame against our enemies.
El Paso, Elsewhere aim to debut on PC via Steam next 2022, although since Strange Scaffold They have not confirmed its specific release date. You can find more information about the game on its page in the Valve store.