Early access to Guilty Gear: Strive included in the editions Deluxe and Ultimate console, which offers three days of play in advance of the game, now include all the modes and features, including the 15 characters from their debut, online modes and all the chapters of their story mode. The new Arc System Works fighting game launches June 11 on PS5, PS4 and PC, but buyers of these editions on any of the PlayStation will be able to enjoy it from June 8. Arrive with texts in Spanish, cross-play between the two PlayStation and free update for those who purchase the PS4 version.
As for the first season pass, the game receive five new fighters, two new scenarios, five additional colors for the entire template, and Another Story in story mode. The first purchases reward with special colors for Sol and Ky that also alter the color of their attacks; the code will be included in the first print run of physical editions or digital download purchases until June 25. Guilty Gear: Strive Digital Sound & Art Works, one of the contents of Ultimate for PS4 and PS5, includes the soundtrack of the game and art from the creator of the series Daisuke Ishiwatari.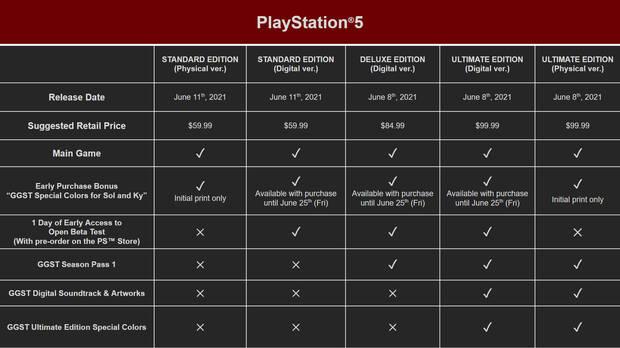 The spectacular fighting game from Arc System Works
Guilty Gear: Strive offer 13 modes including a story with animated cinematic scenes, a review of the chronology of the saga with a glossary of characters and all the information of the saga so far, galleries with scenes, music and art. It also includes the essential tutorials, arcade mode, survival – defeating the greatest number of opponents -, missions to practice skills and versus against artificial intelligence or another local player. In the online game we will be able to challenge other players, participate in quick games, replay gallery, clash settings, etc. The team promises an "optimized netcode" for the best online experience.