Electronic Arts ingres $ 5.6 billion (4016 million from microtransactions of "live services") between April 1, 2020 and March 31, 2021 for all its operations. The 29% of that amount, $ 1,620 million, correspond to income from micropayments in Ultimate Team modes from FIFA, Madden NFL Y NHL. A "substantial part" of this amount comes from FIFA Ultimate Team envelopes, as the company admits in a financial regularity document registered with the United States Securities and Exchange Commission.
The increase of the revenue generated by the Ultimate Team modes, and the proportion they represent to the total revenue of the company, has been constant since 2015, according to the industry analyst Daniel Ahmad, of the firm Niko Partners, and Twitter. One 2015 the figure was 587 million of dollars. A year later, at $ 660 million. Last year it was $ 1490 million.
How much does EA earn from Ultimate Team across FIFA, Madden and NFL?

EA Net Revenue from Ultimate Team:

FY 2021: $ 1.62bn
FY 2020: $ 1.49bn
FY 2019: $ 1.37bn
FY 2018: $ 1.18bn
FY 2017: $ 775m
FY 2016: $ 660m
FY 2015: $ 587m

The majority is from FIFA Ultimate Team ofc. pic.twitter.com/xUbNUx6R62— Daniel Ahmad (@ZhugeEX) May 26, 2021
"The income of our saga FIFA, including the annual game for consoles and PC, which is consistently one of the best-selling games on the market, as well as FIFA Ultimate Team, they are important to our business and will continue to be so", Electronic Arts explains in the document, where they add that Ultimate Team is your most popular "live service".
EA admits its financial results depend on Ultimate Team
In the text, the American company admits: "Any delay or failure in our ability to provide content of high-quality live services to consumers during a prolonged period may affect materially and adversely to our financial results, consumer engagement with our live services, and cause damage to our reputation and brand. "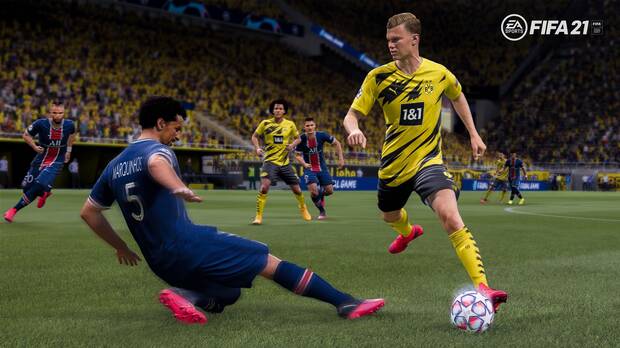 "Any event or circumstance that adversely affects our ability to reliably provide content or maintain participation in Ultimate Team, especially in FIFA Ultimate Team, adversely affect our financial results disproportionately, "they add, explaining that situations such as COVID-19 pandemic, which caused the delay and cancellation of sporting events, affected the business.
But there is another factor that can affect your business: research from different countries (also from Spain) on the button boxes, from where you can argues that they are similar to gambling and therefore must be regulated as such. "The government regulations that applies to us can affect negatively to our business ", they affirm from EA.
"Some of our business models and functions within our games and services are subject to new laws or regulations or to the evolution of interpretations and application of laws and existing regulations, including gambling related"and they explain that there are" existing laws or regulations that have limited or restricted the sale "of their products," including the Ultimate Team mode associated with our sports sagas. "
In another part of the document, they reaffirm the position that they have defended on numerous occasions: "We do not believe that our products and services violate applicable gambling laws".