The complete Dying Light: Platinum Edition from the post-apocalyptic open world of Dying Light aims to arrive on Nintendo Switch in the month of October, inviting players to put into practice its techniques of parkour and zombie survival. We are talking about an edition that offers all the downloadable content of the first Techland game, which represents a total of four main DLCs and 17 skin packs. All this for a price of around 49.99 euros.
Dying Light: Platinum Edition also on Nintendo Switch
The news comes from the hand of the Polish media PPE, where they point out that Techland will launch the Dying Light: Platinum Edition on Nintendo Switch in October, accompanying the information by a first promotional image that allows us to take a look at the content included in this purchase option. In addition to first game, DLC and skin packs, it is also indicated that it is compatible with HD Rumble, gyros, motion controls, touch screen and provides local / online cooperative mode.
"Travel an infected world where only the strongest will survive. Master your combat skills to fight monsters of all kinds, both human and undead. Parkour across rooftops, craft weapons, and aid other survivors as you face your own nightmares, "is Techland's description of his Dying Light: Platinum Edition.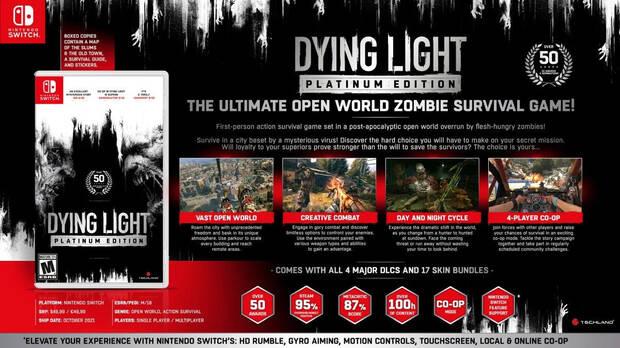 Harran City Comes to Nintendo Switch with Platinum Edition
"With four DLC and seventeen skin packs, Dying Light: Platinum Edition gather everything you need to explore all that the post-apocalyptic world has to offerTechland continues. In this way, Nintendo Switch users can also step into Crane's shoes and roam the streets of the desolate city of Harran in an attempt to do justice in a world that has turned its back on them.
Content of Dying Light: Platinum Edition
Dying Light
Dying Light: The Following: a huge expansion complete with a new story, a vast original map and a customizable buggy to drive.
Dying Light: Bozak Horde: a challenging gameplay with its own side story.
Cooking and loading: two additional quarantine zones.
Ultimate Survivor Bundle: exclusive weapons and outfits.
Crash Test Skin Pack: a crazy cosmetic pack.
Hellraid: a new game mode in a dark fantasy environment.
A great collection of skins and weapons that will make killing zombies even more fun:
5th Anniversary Package
Harran Ranger Pack
Gun Psycho Pack
Volatile Hunter Pack
White Death Pack
Vintage Gunslinger Pack
Rais Elite Ship
Godfather Package
Harran's Prisoner Pack
Retrowave Package
SHU Warrior Package
Volkan Combat Armor Pack
Classified Operation Package
Viking: Harran Raider Pack
Harran's Tactical Unit Pack
Meanwhile, the players are waiting to enjoy Dying Light 2 coming December 7 of this year – a title that aims to be broader and richer than the original game in terms of the open world. Also, have new types of enemies that we could take a look at in their recent gameplay.