When Destruction AllStars is advertised as exclusive to PS5 During the presentation of the console, one of the details I least liked was its price: the company marked its sales figure at 79.99 euros for the Spanish market, with a similar rise in the rest of the territories, which was understood as an increase in the standard price of large launches. However, in October of last year it was announced that the game would be delayed until February and that, in addition, will be released as a free game for PlayStation Plus subscribers.
Before Destruction AllStars ceased to be available for free on said subscription service, those responsible for the vehicle destruction game announced that its final price will be 19.99 euros, instead of the 79.99 euros that had been marked just a few months before. With this movement they intend, according to the study itself, "to guarantee that the chaos continues long after our promotion of PlayStation Plus ends." Now, a couple of months after that announcement, Destruction AllStars can be found for 10 euros in physical format in stores like Amazon or Media Markt.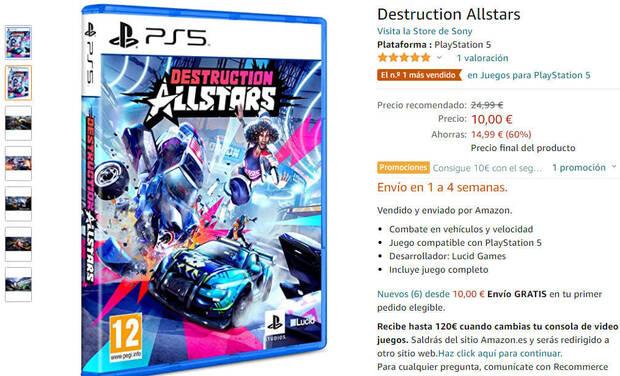 Destruction AllStars went on sale in physical format a week ago
It should be remembered that the physical format of Destruction AllStars it was launched just a week ago, last Friday, April 16, so its price has suffered a 50% reduction in exactly seven days. In digital format, yes, it continues to maintain its recommended price, the 19.99 euros, at least in the Spanish PlayStation Store, where today it does not have any type of discount. Lucid Games, those responsible for this project, assured in their day that the intention was to continue filling the game with content, with a seasonal division that would favor the inclusion of new characters, skins, vehicles, stages, game modes and more.
On Vandal we could play Destruction AllStars when they debut on Sony's next-gen console and in our review we say of him that "is a fun game that could have been a lot more. From the first games he conveys the feeling that wants to be the Rocket League by PS5, that many of the decisions made (the characters, the setting, the powers) are based more on market studies that indicated that they had to be more like Overwatch Y Fortnite than to studied and well thought-out instructions on game design and mechanics ".